is this free?hope so sounds yummy x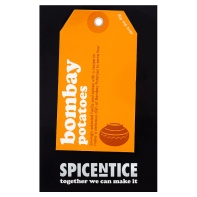 Spice N Tice Bombay Potatoes
(12g)
quantity Add
Lovingly selected herbs and spices with a recipe to make a delicious dish of Bombay Potatoes to serve four. Together we can make it. A clever little (no waste) pack of 100% pure herbs & spices, with an easy to prepare recipe that serves four. Everyone can make it with Spicentice - just add a few fresh ingredients and one big pan! 12g e of spicy know how!
Ingredients
Cumin Seeds , Mustard Seeds , Turmeric , Paprika , Chilli Powder .
Other information
Additives
Dietary Information
Free From Additives. Free From Artificial Colours. Free From Artificial Preservatives.
No colouring. No preservatives.
Storage
Store me in a cool dry place so that I stay fresh.
Packaging
Hanger
Get Rid of this ad and join in on the conversation for free today! Tap here!