S: 9st11.5lb
C: 8st12lb
G: 8st10lb
BMI: 22.7
Loss: 0st13.5lb(9.82%)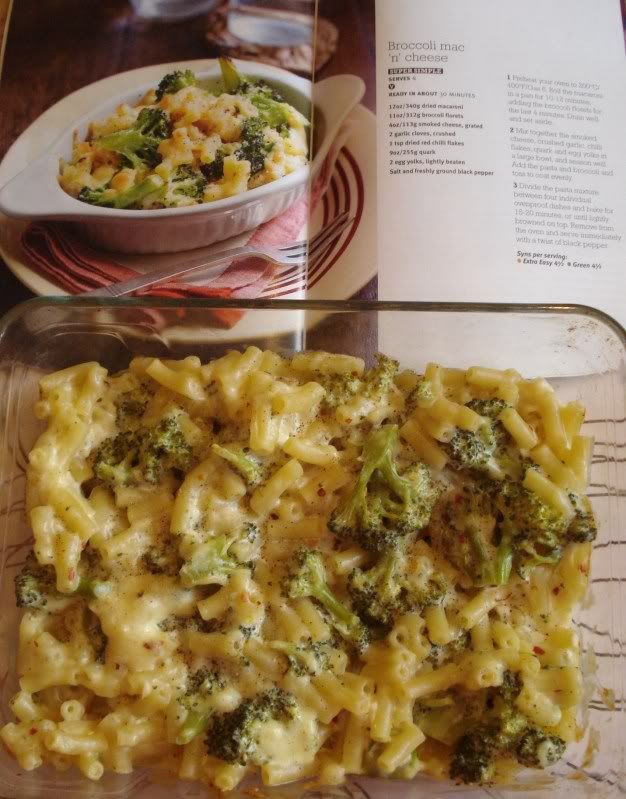 Brocolli & Macaroni Cheese
From the quick & easy dinners recipe book

Super simple to make
Serves 4
Ready in about 30 mins
Syns per serving: 4.5 syns on Green & Extra Easy if not using the cheese as HEA choice.

Ingredients:
12 oz/340g dried macaroni
11 oz/312g brocolli florets
4 oz/113g smoked cheese, grated
2 garlic cloves, crushed
1 tsp dried red chilli flakes
9 oz/255g quark
2 egg yolks, lightly beaten
salt & pepper

Method:
Preheat your oven to 200 degrees/gas mark 6. Boil the macaroni in a pan for 10-12 minutes adding the brocolli florets for the last 4 minutes. Drain well & set aside.
Mix together the smoked cheese, crushed garlic, chilli flakes, quark & egg yolks in a large bowl & season well. Add the pasta & brocolli & toss to coat evenly.
Put the pasta mixture into an ovenproof dish & bake for 15-20 minutes or until lightly browned on top. Remove from the oven & serve. Top with a twist of black pepper.

The amount shown in the photo is a portion for two people as I halved the recipe.
Get Rid of this ad and join in on the conversation for free today! Tap here!