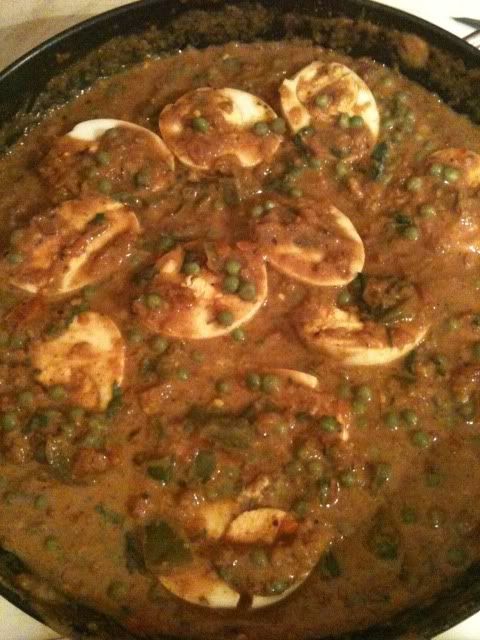 Great for green and EE days and if you leave out the frozen peas, can be eaten on a red day too with some wholemeal pitta bread as your "naan"

INGREDIENTS
1 onion
2 cloves garlic
Small knob ginger
6 bird's eye chillies (or to taste, I like it hot)
5 medium tomatoes
Handful of frozen petit pois
6 eggs
Pot of 0% greek yogurt
Salt & pepper
1 chicken stock cube (made up with 1 pint boiling water)
1 tbsp tamarind paste (1 syn)
1 heaped tsp curry powder
1 tsp sugar (1)
1 pack kitchen guru spice mix
Ocado: Kitchen Guru Chicken Jalfrezi (Product Information)
Fresh coriander, chopped
METHOD
Peel the onion, garlic and ginger and chop finely in a food processor with the chillies.
Transfer to a hot pan and sautee until softened but not coloured. Add a few splashes of chicken stock if it gets dry at the bottom.
Add the spices and curry powder to the onions and stir well, add regular splashes of stock to maintain some moisture in the pan. Cook for about 10 mins.
Pulse the tomatoes in the food processor and add to the onions and spices. Stir well and allow to simmer for 5 mins. Add the rest of the stock and simmer for about 20 minutes on a low heat, stirring regularly.
Meanwhile bring the eggs to the boil until hard boiled. When cooked, peel and halve lengthways. Set aside
When the curry is cooked, add the peas, tamarind paste and coriander. Simmer another 5 mins. Take it off the heat and set aside for 5 minutes. After 5 minutes, stir in the yogurt and then gently place the eggs in the curry cut side up, spooning the curry over them. Serve with basmati rice and steamed veggies!
Get Rid of this ad and join in on the conversation for free today! Tap here!
Last edited: