S: 16st4.0lb C: 14st5.5lb G: 10st0lb BMI: 32.5

Loss: 1st12.5lb(11.62%)
Hey all! Thought I would write these all here instead of keeping a food diary (I already keep a written one and am too lazy to type it up every day!). It'll help me keep track of what I'm eating, and I know a lot of veggies struggle to keep SW interesting, so hopefully it'll help too
I'll update this weekly whenever possible, so I can add whatever I conjured up that week.

All
of these recipes are
veggie-friendly
, but you could add or swap in meat wherever you wanted, of course.
Feel free to drop in with any questions or suggestions!
All of these were made by a lazy student, so they're relatively effortless.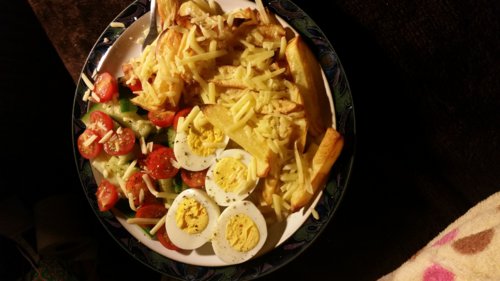 Slimming World Chips with Hard-Boiled Eggs, Cherry Tomatoes and Cucumber
40g of low fat Cheddar as HEXA, everything else is free. Really filling comfort food!
Recipe for chips can be found
here
.
If you hate having salad sans-dressing, try mixing 2 tbsp of fat-free natural yoghurt with half a lemon and a couple of pinches of salt and pepper- it hits the spot!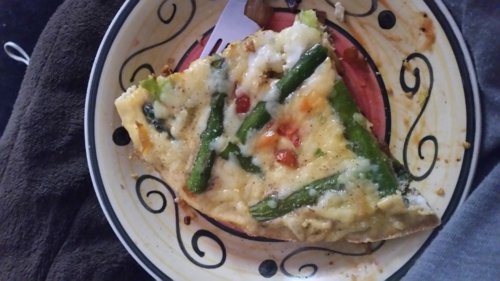 Asparagus Frittata-Style Wedges with Cherry Tomatoes and Brussels Sprouts
I used 40g of low fat Cheddar as my HEXA for the whole dish. Sorry for the messy plate, I devoured a portion already!
. 1 pack of asparagus tips (roughly 250g), halved
. handful of cherry tomatoes, halved
. handful of sprouts, boiled and chopped
. 1 large onion, finely chopped
. 6 large eggs
. 40g low-fat cheddar cheese
After chopping all your veggies (boil your sprouts until tender before chopping), take an oven-proof frying pan and spray it with fry-light. Fry your onion until it's just starting to brown, then add your cherry tomatoes and asparagus.
Whisk your eggs and season well with salt and pepper or other spices of your liking. Whisk in 30g of your cheese if you're using it. Add the sprouts to the pan and pour the egg mixture evenly over the veggies.
When the omelette starts to firm at the bottom, remove it from the heat, sprinkle over the remaining cheese and put it under the grill for another 10 minutes or until the top is solid and turning golden.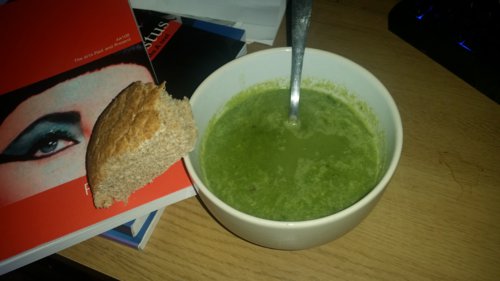 Mean Green Soup with Asparagus, Spinach and Leek
I had this with a wholemeal roll for my HEXB. It's full of flavour and great for your health!
. 2 large leeks, chopped
. 2 packets of asparagus tips (roughly 500g), halved
. 2 handfuls of fresh spinach leaves
. 2 tbsp of quark (optional)
. 1L of vegetable stock (2 cubes or equivalent)
Take a large pot and spray the bottom with fry-light. Add your leek to the pan and stir regularly until it starts to soften. Add your asparagus and then your spinach.
Boil 1 litre of water. Add 200ml to a jug with your stock cubes and the other 800ml to your pot. Stir the stock until dissolved and add to the pot. Leave to boil for 10-20 minutes.
Pour your mixture into a blender or hand-blend until the soup is a bright-green liquid. There should still be some asparagus tips left whole to create texture. For a creamier texture and a slightly sour bite, add 2 tablespoonfuls of quark while blending. Season to taste and serve.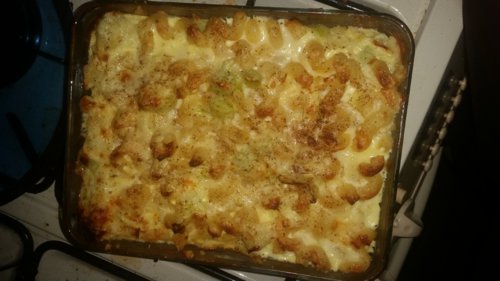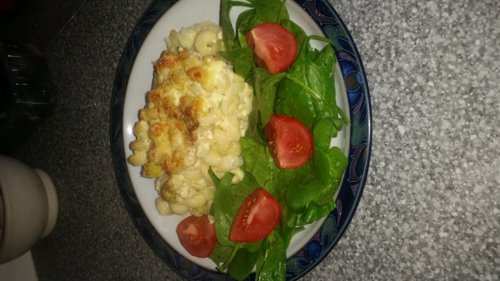 Easy Cheesy Leek Pasta Bake
Really quick and simple, and satisfies that craving for a creamy cheese sauce. Half the dish is your HEXA or 6 syns!
. 3 leeks, chopped
. 200g of macaroni or other dried pasta of choice
. 80g of low fat cheddar
. 250g of quark
. 3 large eggs
. fresh spinach and salad tomatoes (optional)
Cook your pasta with a few pinches of salt as directed on the packet. Boil your chopped leeks for 10 minutes or until soft.
Whisk your eggs and quark together until smooth, add 40g of cheddar and continue mixing. Season well with salt and pepper or other spices of your liking.
Drain the pasta and the leeks and mix the two together in an oven-proof dish. Poor over your whisked mixture and stir it in evenly. Mix in 30g more cheese and use the remaining 10 to sprinkle over the top. Season the top of your dish with pepper and nutmeg before baking.
Place in the oven at 200°c (180 for fan-assisted ovens) and bake for 15-25 minutes until the top is golden brown. Serve on a salad bed of your choice- I used fresh spinach leaves and sliced tomatoes.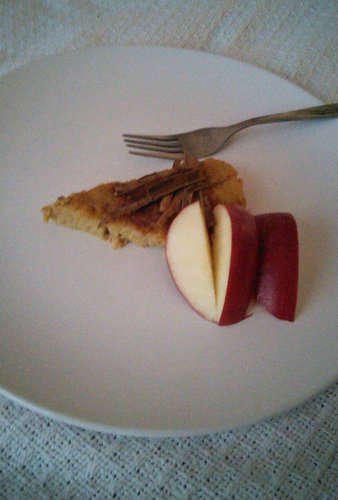 S̶p̶i̶r̶i̶t̶ Slimming World Crustless Pumpkin Pie - Halloween Week

Low syn sweet treat and the perfect way to waste none of your Halloween pumpkin!
This entire pie is
15 syns
, so you could eat the whole thing if you wanted! I typed up this recipe for a friend, so you can find it
here
, including serving suggestions!
Happy Halloween and have a great week, everyone.
***
Get Rid of this ad and join in on the conversation for free today! Tap here!
Last edited: