S: 18st6.4lb
C: 17st5.8lb
G: 11st0lb
BMI: 40.6
Loss: 1st0.6lb(5.65%)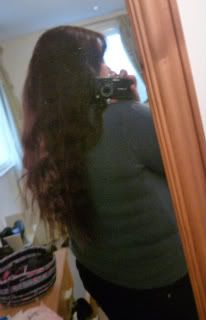 I'm getting all my hair cut off, so was wondering how much weight it will make me lose
i dont actually think it will make that much difference even though i have quite thick hair. because as it gets longer i dont get heavier do i? as i assume all the stuff to make hair is in my body therefore i stay the same weight? i am no scientist i shall tell you that!!
im getting it cut to shoulder length so having about 10 inches off. im nervous as it will be the shortest i've ever had it. and i'm having it dyed. i am excited though as this is my 4 stone off treat =] Also a bit upset as i've always wanted floor length hair but i also want short hair and this is easier
i'm also a bit nervous as i have never been to a hairdressers before in my life.
I'll post an after picture later.
edit: just realised i should have waited till after winter. im going to be so cold
Get Rid of this ad and join in on the conversation for free today! Tap here!
Last edited: