Obit written for a rat forum I use but wanted to share it here too.
Izzie was born (around) 4th August 2006 and was pts today, February 16th 2009 at 30.5 months.
She lost her battle today, when I woke up to find that her poorly eye, was dead, that the ABs were not working and that she needed multiple doses of pain medication just to get through the day. I knew she wanted to go, and I knew that not putting her through the OP to remove the eye was the right thing to do for her. She was tired and she was a wonderful age. (30.5 months). She'd lost her sister before NY, and her Auntie in October. She met Hink and Rattix, who helped her through the loss of her sister, then she quietly retired again with her previous cagemates, who for the most part treated her like the old lady she was.
Izzie was never a robust rat. Bought from a pet shop in 2006, she arrived with sarcoptic mites, and a constant sneeze that frequently turned to pigeon noises and general unwellness. As a result, she spent far more time than I would have liked, on medication. The irony being that the medication would suppress her immune system, making her more susceptible the next time.
She also suffered two periods of what we presume were epileptic fits, a year apart. And sprained her hip when trying to dominate the new girl, Saffy (bless her - Saffy grew up to tbe the Alpha - she certainly got her own back!).
She sneezed.
If there was mischief to be had, Izzie was there. She stole pens. She "yoinked" yoggies. She could strip a broad bean down in a split second. She got exuberantly excited about nutrical. She was ALWAYS first to the door when she was well. She licked. And licked. And licked. And sneezed.
She was a stunningly beautiful striped roan dumbo girl, my favourite variety. She only partially roaned out and darkened again once or twice. She sneezed once or twice too.
She was first to learn that you can climb daddy's legs, even when he's standing, and loved nothing more than sitting on her daddy's tummy under his shirt (I think got took the huff when daddy's tummy disappeared).
She made everyone who met her, love her. Her tummmy was very kissable. She interacted with everyone and was my "oh you'd love rats if you met one" rat.
She was the product of a rodent farm, and I have no regrets that she was in my life, in the manner she was. She was gentle, loved her cuddles.
I will miss her terribly - She was the last of my original 3. She was one of the sparks that made my life special again. And she sneezed. It was one of the last things she did this morning, before we said goodbye. She left quickly, and gracefully, like I knew she would.
I will just finish this off with some pictures of my wonderful girl.
The final good pictures taken of Izzie, a week ago by Lilly.
Izzie as a baby: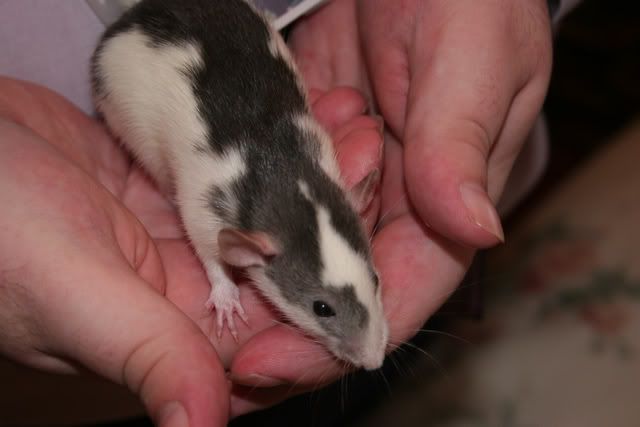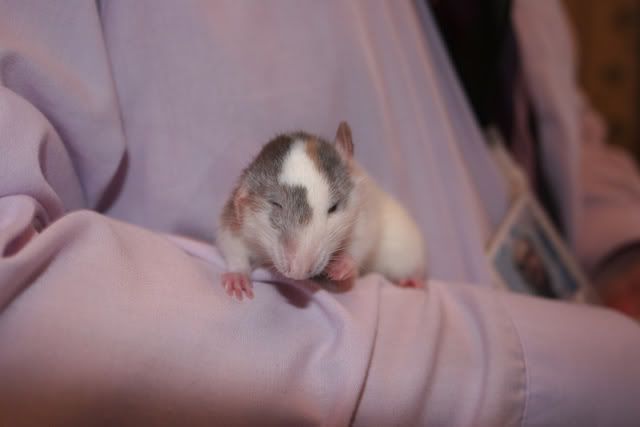 30th monthday:
Random pics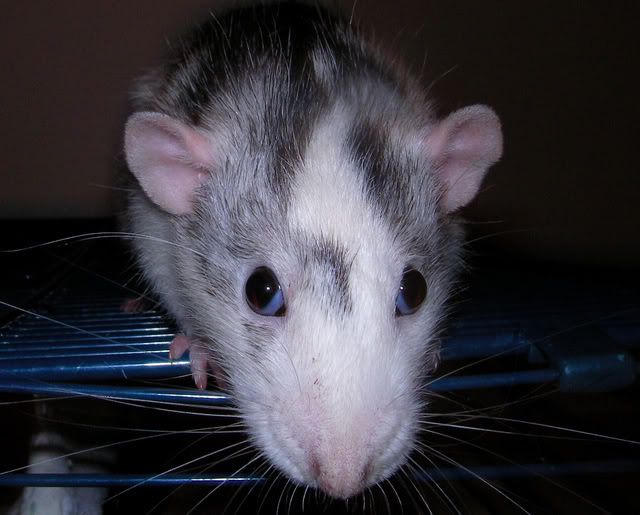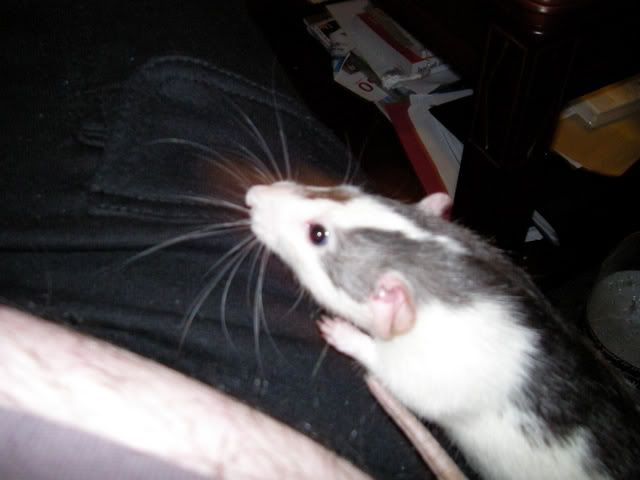 With Lilly a few months ago.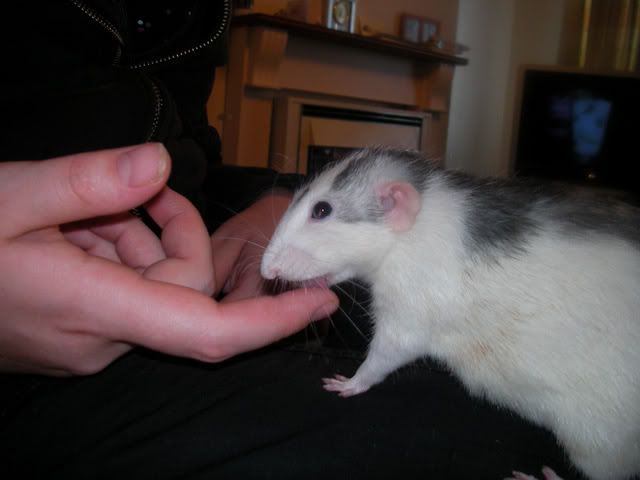 Her old gang: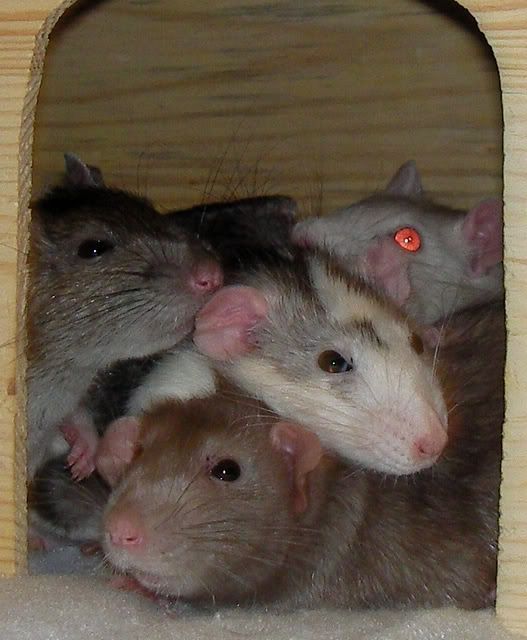 Her 2nd birthday: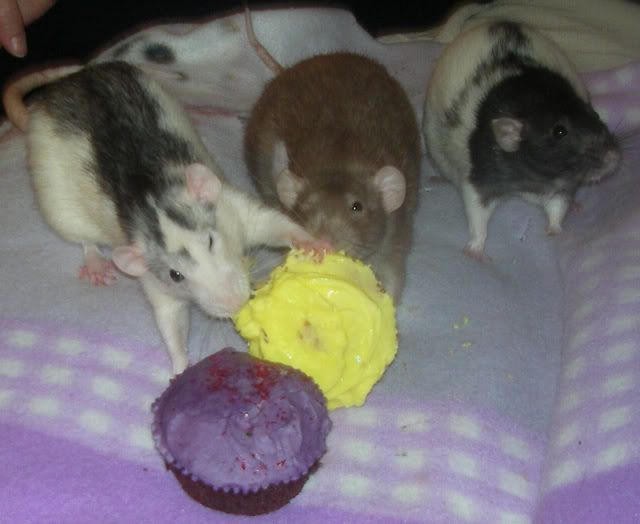 And the picture that breaks my heart. This is her, with her ister (Suzie at the back) and her auntie Georgie. My original 3. All gone.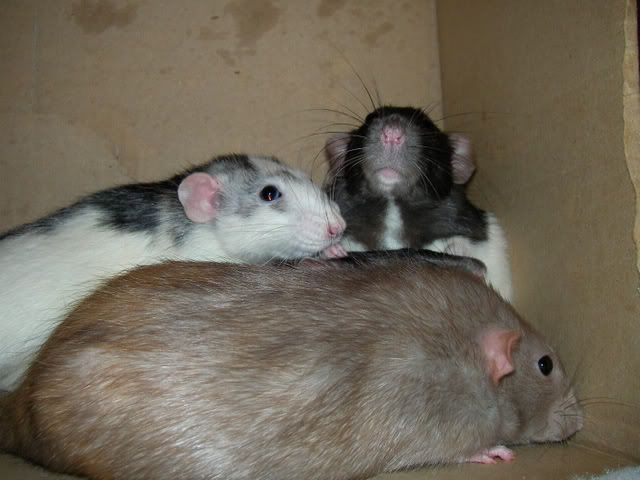 Love you honey - thank you. Just thank you.
Get Rid of this ad and join in on the conversation for free today! Tap here!