S: 13st13lb

G: 9st9lb
Serves 4, SYN FREE!
INGREDIENTS
1 medium potato
1 red pepper, finely chopped
6 rashers bacon medallions (trimmed of fat)
5 king prawns, sliced in half along the vein
6 eggs
Heaped tablespoon quark
1 medium onion, chopped
1 clove garlic, chopped
2 plum tomatoes, sliced
Fresh chillies, chopped
Handful of frozen peas
Fresh coriander
Salt
Pepper
All purpose seasoning
METHOD
Boil the potato until al dente, set aside to cool
Fry off the bacon in some fryight until cooked. Add the garlic, chillies, onions and pepper and cook until softened. Add the frozen peas and allow to cook for a couple more minutes, season with salt, pepper and all purpose seasoning. Add the fresh coriander.
Transfer to a flan dish (sprayed with frylight), spreading out well, slice the potatoes and lay on top of the sauteed veggies.
Thoroughly beat the eggs and quark together, season with a little salt and pepper and pour over the vegetables. Lay the sliced tomatoes and prawns over the eggs.
Sprinkle with black pepper and bake at 180C for 30 - 40 minutes until firm in the middle and puffed up.
Serve with a salad and/or roasted superfree veggies!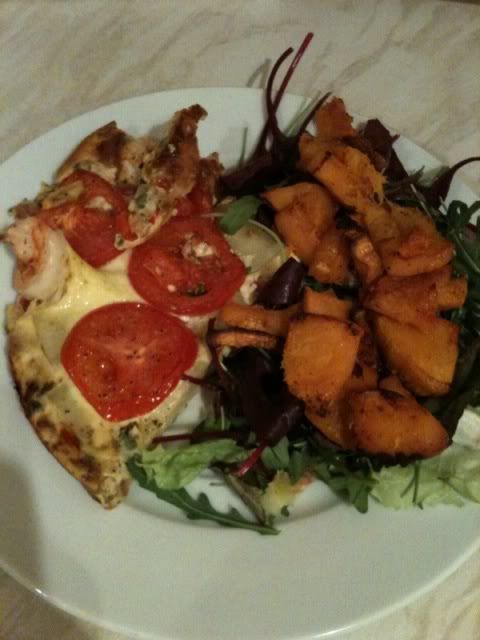 Get Rid of this ad and join in on the conversation for free today! Tap here!