Got this from this month's Good Food magazine and adapted it slightly to be more SW friendly. Really lovely and easy!
Serves 4
1.5 syns per serving on green or EE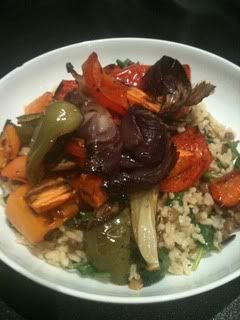 INGREDIENTS
4 Peppers, Different Colours
1 Fennel
2 Carrots
1 piece Large Red Onion
Handful Of Cherry Tomatoes
100g Baby Spinach
250g Brown Rice
1 can 400g Lentils (canned In Brine Or Water)
1 cube Vegetable Or Chicken Stock Cube
1 Tablespoon Olive Oil (6 syns)
6 Cardamom Pods
1 Cinnamon Stick
600ml Boiling Water
Salt
Pepper
Preheat the oven to around 200C
Roughly chop the vegetables (except the grape tomatoes which should be left whole) and arrange on a roasting tray. Season with salt & pepper and spray with oil spray, drizzle 1/2 tablespoon of olive oil on the onions - tastes much better. Roast for 40 minutes.
Meanwhile wash the rice. In a roomy pot, Heat the other 1/2 tablespoon of olive oil and add the cinnamon stick and cardamom pods. Toast for a few minutes. Add the rice and stir well. Add salt & pepper to taste and the stock cube. Stir well and add the boiling water. Cover and bring to the boil, lower the heat to low and simmer for 40 minutes.
Drain and rinse the lentils and add to the cooked rice, stir well. Stir in the spinach and cover until it's wilted.
Spoon onto a plate and heap the roasted vegetables on top. Delicious, filling and healthy!
Get Rid of this ad and join in on the conversation for free today! Tap here!
Last edited: