S: 27st8.5lb
C: 17st3lb
G: 16st7.5lb
BMI: 36.6
Loss: 10st5.5lb(37.65%)
I think this is one of the best soups I have ever tasted.
Smoky black bean and roast tomato soup
(
Free
on
Green
/
EE
For the salsa:
1 small red onion, very finely chopped
100g sweetcorn kernels
1 red chilli, deseeded & finely chopped
juice of 1/2 a lime
small bunch of coriander, leaves only, finely chopped
For the soup:
12 whole tomatoes
2 red onions, chopped
3 garlic cloves, finely chopped
2 tsp chipotle paste
1tsp dried oregano
1 tbsp cumin seeds
700g cooked black eyed beans (you can either use 700g tinned or soak dried ones overnight - about 200-250g dry weight)
750 ml veg stock
juice of 1/2 a lime
- Soak beans overnight if you are using dried ones
- When ready to cook heat oven to 190C/fan 170C/gas 5
- Cut tomatoes in half, lay cut-side up on a baking tray, sprinkle with salt, spray with Fry Light and roast for 30 mins
Next make the salsa:
- Fry onion in Fry Light for 5 min until soft
- Add sweetcorn & chilli and cook on high until start to go brown
- Take off the heat, season with salt, pepper and lime juice and set aside
- Next do soup - cook onions in Fry Light until translucent (but not brown), add garlic, chipotle paste, oregano and cumin seeds and cook for 5 min until cumin fragrant.
- Add tomatoes, beans and veg stock, bring to the boil and simmer for 30 min. Season with salt, pepper and lime juice then liquidise in a blender.
- Add coriander to the salsa
- Season soup to taste, top with a spoonful of salsa and serve
This recipe was gorgeous and I am not a great soup fan. It is definitely definitely worth doing the salsa to go with it.
Here's a piccie: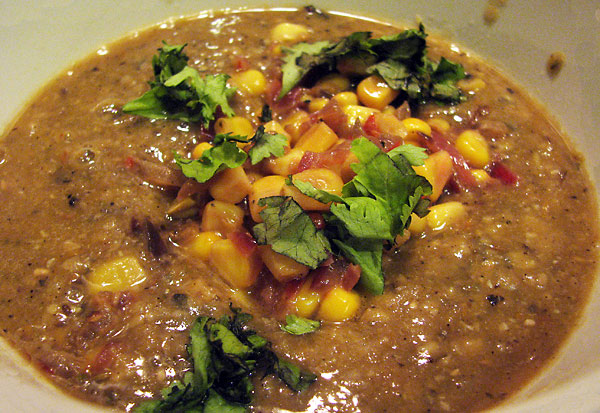 Get Rid of this ad and join in on the conversation for free today! Tap here!