This was utterly delicious and a great way to make your superfree veg much more yummy and interesting! Marrow can be replaced with any summer squash like courgettes, pattypan squash etc.
Serves 4
1/2 HEA + 1.5 syns per serving (syn free if using frylight instead of olive oil)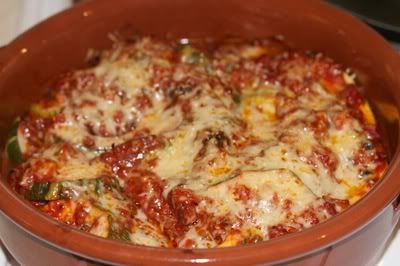 Ingredients
1 large marrow
1 tbsp olive oil (6 syns)
1 tin chopped tomatoes
2 cloves garlic
1 meium onion
2 birds eye chillies
1 celery stalk
1 carrot
56g parmesan, grated
Fresh chopped basil
1 tbsp tomato paste (0.5 syns, negligible per serving)
1/2 chicken stock cube
Salt & pepper
Finely chop the onion, celery, carrot, garlic, chilli. Heat the olive oil and soften the veg. Add the tomatoes, tomato paste, salt, pepper, stock cube, and a small splash of water (swirled in the tin of tomato). Lower heat to low and simmer for 20 minutes, stirring regularly. The sauce should be reduced and quite dry. A lot of water comes out of the marrow so make sure the sauce isn't watery.
Meanwhile cut the marrow in half and scoop out the spongy centre. Cut into slices and arrange in a baking dish. Top with the tomato sauce, cover with foil and bake at 200C for 40 minutes. After 40 mins, take off the foil and sprinkle the cheese on top. Bake for a further 20 minutes until melted and bubbling.
Deeelish! Its great with pasta or grilled fish.
Get Rid of this ad and join in on the conversation for free today! Tap here!