Hola!
As today is Thursday I wanted to share with you all a weekly thing of mine...
Whilst losing weight, or being unhappy with our weight, it's all too easy to focus on the negatives, and what we don't like;
I hate my thighs, my tummy's too big, the weight's not coming off quick enough (insert negative comment here)
All this negativity isn't good when you're trying to make a positive change in your lives.
So, i'd like you to take part in what i like to call *Thankful Thursday*
I'd like you to list 3 things you are thankful for.
3 things that you know, makes your life just that little bit better
My 3 for today are...
My wonderful boyfriend Gav. He makes me feel like I can achieve anything I set my mind to.
My previous Slimming World experiences. Although I didn't reach my target, it's given me the determination to do this once and for all.
This forum. It gives me somewhere to vent my frustration and celebrate my success.
Now, do me proud.
Also, i can't stress enough how much I love this website;
http://www.thankfulfor.com
You can sign in via your Twitter or Facebook and share what you're Thankful For - Give it a go!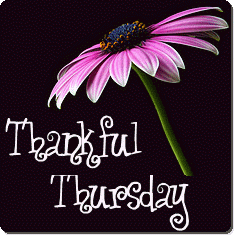 Get Rid of this ad and join in on the conversation for free today! Tap here!
Last edited: