doesn't have a witty name
S: 18st6lb
C: 17st12lb
G: 10st10lb
BMI: 45.7
Loss: 0st8lb(3.1%)
So, after a total driving time of 20 hours we finally made it back from our best friend's wedding. Iowa was warm and sunny, perfect wedding weather, and the brides were radiant. I have eaten all manner of food that certainly wasn't on plan, but had a fabulous time and shed a few tears at our lovely friends. We don't know when we might see them again now, they live 8 hours away from us and US immigration laws mean that they might have to return to England in order to stay together, despite the fact that they're legally married in both Iowa and England. Anyway, I present to you all the gorgeous brides, Tracy & Mandy...
And this is my lovely family. My youngest, Izzy, is in the hot pink. Susan, my partner (she was Mandy's "best lesbian") in the navy, I'm wearing a dress that was described by one of the (many) gay men in attendance as "like a sunset, darling, you look like a stunning sunset over the ocean" and Becs, my eldest is in the print dress looking frighteningly grown up and nothing like her tender 13 years.
I'm letting myself off the food hook, though, as we had absolutely no control over what we ate. I had healthy snacks in the car, but all the meals after we arrived were served in the hotel and from a menu determined by the brides. So, just because it was so terribly, terribly delicious, and just because it was so terribly, terribly off plan, I give you my dinner at the rehearsal meal. Day-After-Thanksgiving sandwich--an indulgent combination of a pretzel bun (about as big as a small child's head...) with red-skinned mashed potatoes, stuffing, turkey breast, cranberry sauce, and gravy. Oh, and don't forget the onion rings...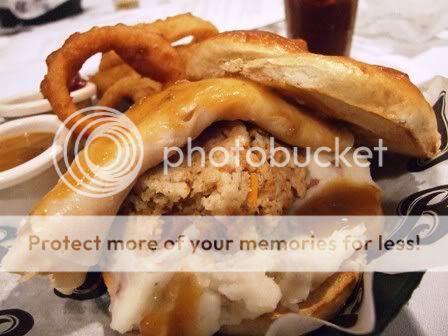 Back on plan now though, and busy updating 800 photographs to facebook!
Get Rid of this ad and join in on the conversation for free today! Tap here!