This is a very self indulgent post, I'm afraid.
A bit of background: last summer when we had a family reunion (Only see family every 12months or so as we're spread all over europe) and took mum, Aunty & Sis to bridal shop. The shop ladies asked me to pick out the dresses I liked to try on. They then proceded to tell me that I'd not be able to try them on as they wouldn't go!! They then bought 2 fat dresses out from the back - a size 20 & 22 respectively. I was a size 14-16 at the time, and was pretty horrified, especially when they said I'd never get in anything less than a 16 as I have big bones!!!
It was the most humiliating experience of my life, made worse by the fact it was my only chance to try dresses on with my family.
Fast forwards to today, 2 stone lighter, feeling fab, in the bestest bridal shop ever. The female equivalent of Gok Wan was dressing me, and I found the dress of my dreams. The best bit? A size 12 (from the same designer as those original dresses) and according to her, the fit was perfect!! I felt so slim I cried.
Here it is, I know how much you love a good piccy! (Wasn't allowed to take any of me as haven't paid yet).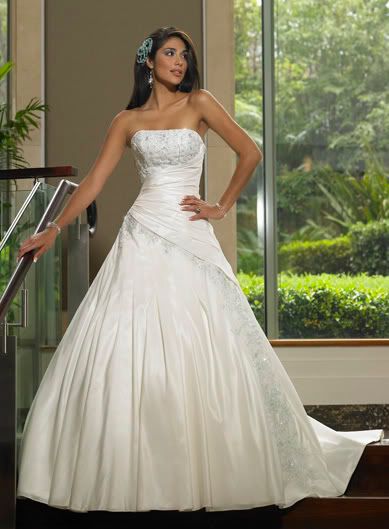 So now, I seem to be struggling with SS. I actually looked nice today, do I really need to lose another stone and a half or even more? My mum hasn't seen me recently but has told me not to lose my curves. And if I do carry on SS should I order in a size 10, seeing as the 12 is perfect now??
I'm just having a wobble, would murder for some ben & jerrys whilst I watch the mighty boosh & don't tell the bride later!!
Get Rid of this ad and join in on the conversation for free today! Tap here!