Here's a great side dish recipe that would be great to serve during the holidays. Enjoy. Let me know what you think.
Creamy Baked Brocolli
Prep Time: 5 min * Total Time: 20 min * Makes: 4 servings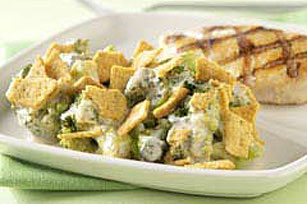 1 pkg. (10 oz.) frozen broccoli florets, thawed
1/2 cup KRAFT Light Three Cheese Ranch Dressing 24 WHEAT THINS Reduced Fat Baked Snack Crackers, coarsely broken
PLACE
broccoli in 10x6-inch baking dish; drizzle with dressing. Sprinkle with cracker pieces.
BAKE
at 375°F for 15 minutes or until heated through.
Here's the link to the recipe and Nutritional Facts:
Creamy Baked Broccoli recipe at Kraftfoods.com
Get Rid of this ad and join in on the conversation for free today! Tap here!