Just wanted to tell you all about my delicious dinner yesterday. Had skinned and boned chicken thighs. Brushed over them Heinz Spread and Bake Sticky BBQ sauce and roasted in the oven for approx 40 mins. DELICIOUS!!!!
1.5 Syns on Original, Green and EE (per level tablespoon)
Really delicious, will def be making this again and the OH enjoyed it too!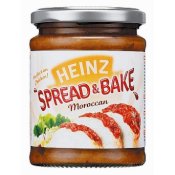 They look like this and there are other flavours!!
Get Rid of this ad and join in on the conversation for free today! Tap here!