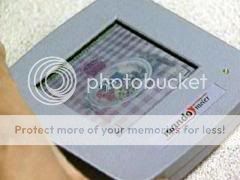 The Mandometer scale and computer lets Modry measure healthy portions of protein, carbohydrates and vegetables, teaching her how to eat normally."When you're restricting, of course, you don't know what a normal meal is like. You know, a carrot isn't a meal," said Modry.Studies show patients seem to prefer the machine over a human telling them what to eat."It doesn't push them; it doesn't force them to do anything they don't want to do," said Melissa Osgood.Biofeedback can be added to show patients how full they should feel during the meal."You want them to feel the same signals that a normal person feels," said Maletz.Doctors aren't sure why the Mandometer works, but studies show the program has a 75 percent success rate."I have my own apartment. I'm learning to live a normal life. I'm going to school," said Modry.And she's confident she's on the road to recovery.

There's a very short film about it 'Mandometer' Device Could Help Control Weight - Health - nbc4.tv | KNBC


It's being used in some clinics in the UK too. I think it's a brilliant idea. I know that my portion sizes and hunger signals were totally skew-whiff. I would have loved a device to tell me how I should feel until I learnt to recognise the signals.​
Get Rid of this ad and join in on the conversation for free today! Tap here!