hiya
i'm new to the forum and have just noticed pets corner.
i have 2 poodles i will let you see if i can manage to upload a pic
Patsy Poodle is a Standard poodle and will be 4 in october.
she is a dream dog with a lovely nature.
Missy is a wee miniature poodle and will be 10 sometime this year.
she is a rescue dog and we have had her 2 years come october.
she is the opposite of Patsy - we call her the ginger snapper
right here goes :-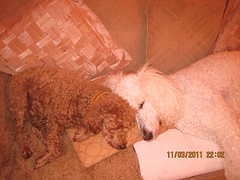 Get Rid of this ad and join in on the conversation for free today! Tap here!
Last edited: