So many lovely cat threads that i've been inspired to post some pics of my boys.. yes i'm bragging.. but i also didn't want to hijack anyone else's thread
this is my ode to my furbabies.
Loki, Elby, Oscar & Tanner.
Loki is the gray tabby (5 yrs) he's a little bit feral and he's the alpha male, he's also a wee bit crazy.. he likes loud noises like buzz saws and vaccuums and he loves to brush his teeth with the electric toothbrush (he has his own) and we vaccuum and use the hair dryer on him. lol
Elby (4 yrs) is the Mackerel Tabby.. he was named 'lb' (little boots) as all his paws are white.. we think if it's possible to have a gay cat.. he is lol .. he's very sensitive and sweet and he literally prances.. lol.. but most of all he's got a sweet spot for Tanner and has been known to try and hump him on occasion.. lol
Oscar (2 years) is the baby.. we adopted him from the shelter on an adoptathon weekend.. he was too small to take home that day and had to gain 5oz. We think he's a tabby /coon mix. He's the most loveable cat i've ever owned, he's so gentle and he never claws at you when playing.. he's obsessed with his laser and he 'talks' back to you when you chat with him.. lol He's also got these fangs that snag on his lip so he looks like he's smiling
Tanner is our new addition.. he's the old man (7).. (tan, long hair) one of my co-workers was going to 'get rid of him' because they have kids now and they just put him in the basement all day.. broke my heart so we took him in and now he has a wonderful life with us. He's so precious, i don't know why anyone wouldn't want him as part of their family. He's unfortunately declawed.. we do not believe in that but he holds his own against his brothers when he tussles with them.. lol he can still get them in a headlock and kick with his back feet.. haha.. dirty but it works
We shave him in the summer.. give him the 'lion cut' he LOVES it.
In the album are also included pics of Kritter (RIP - 17 yrs.) i still choke up when i think of him.. he is the other mackerel tabby.. looks almost identical to Elby just not as much white on his nose.
My Boys (album)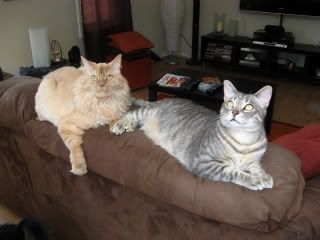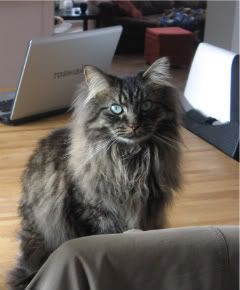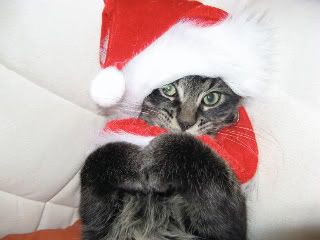 Get Rid of this ad and join in on the conversation for free today! Tap here!
Last edited: