S: 19st10lb
C: 19st4lb
G: 14st0lb
BMI: 34.7
Loss: 0st6lb(2.17%)
Hi everyone,

I've been mooching around this site for a few days now, generally getting inspired and investigating all the fabulous resources available here. It's a fab site and I HOPE to become part of the community.


Anyway, for me to be here, it's pretty obvious I am probably overweight. And I am.

I am 29 years old (in two weeks!) and weigh 19st 6lb(ish). Whilst not fat fat I am massively overweight and have a large belly and masses of fatty deposits in unwanted places.

The reason for my weightloss is to become healthy and enhance my life but the catalyst is my wedding, on June 19th next year. And also a wedding in middle of October where I am best man. I simply want to feel better about myself for this as 3 weeks isn't enough to do anything spectacular.

I also want to be able to buy nice clothes and not have to constantly look for XL sizes and 40" jeans, which is ultra embrassing in 'trendy' clothes shops and I also want to be a fit and healthy dad when we eventually have children.

I am going to do it via weightwatchers (not going to meetings but I have al the literature and calculators etc) and by exercising more, a lot more.

I haven't always been a fatty though - this was me in 2003/4.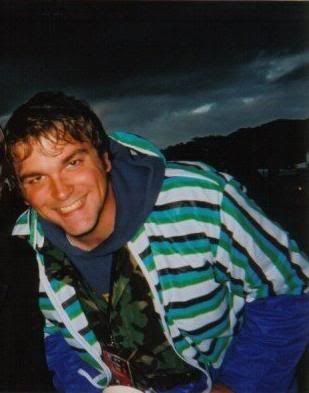 and this, embarassingly, is me now, well, in June, in Cambodia. (other faces have been blurred to avoid any embrassment from being photographed with a fatty).



So, I will be starting my new diet and new lifestyle on Monday 28th September. I am going to keep an online blog/diary too (can anyone recommend which is better?) which I am looking forward to writing and I know will help me keep me focussed.

I really hope to be a success and am looking forward to starting.

See you all around.
Get Rid of this ad and join in on the conversation for free today! Tap here!
Last edited: