Hello im Becky, im 18 year old and i ALWAYS think about food. I wanna lose weight to bad (not alot but enough to make me look and feel better)
Ive been on a few diets the only successful ones have been the paul McKenna i can make you thin book and weight loss CD (lost over 2 stone in a couple of months and could still eat what i wanted but just smaller portions) and the special k (but i get bored of it easily)
I really wanna start weight watchers, theres a class at the school round the corner from my house but i dont wanna go on my own so im gonna beg my mum to join with me lol
I wouldnt say im 'fat' but im almost overweight for my height. My BMI is almost reaching the 'overweight' mark and because im only about 5'4 it deffinately shows
Im a UK dress size 10 and can fit into some size 8's depending on the material and shops.
I really need to tone up but im quite lazy so it's hard for me
The worst part of my body is my legs:cry: they are really short so it makes them look even fatter and i have cellulite which really knocks down my confidence especially for a girl my age
heres a recent pic (took a few day ago) showing me in a size 10 dress but my legs really make it look horrible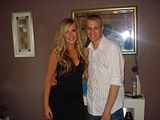 the second pic i like because i think the top part of my body is fine (apart from my un-toned stomach which hangs over my jeans when i bend down
)
Im going on holiday in 3 weeks time and im looking forward to it.. i think ill look fine in my bikinis but the cellulite is really pissing me off and my belly!
I dont really know what else to say but i hope i get some good advice from you guys on here
becky x
Get Rid of this ad and join in on the conversation for free today! Tap here!