Hey guys im new here
as i stated in my introduction i mentioned how i lost over 2 stone by doing the Paul Mckenna i can make you thin plan. But my willpower has dropped so it doesnt work any more
Im usually successful with special k, i do it for 2 weeks and can drop about 5lbs each week and look better in clothes. It's quite hard to do, i get bored easily of eating cereal and hardly anything else but im going on holiday to Tenerife on the 4th of July and i wanna look my best in a bikini!
heres a couple of recent pics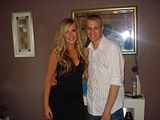 Where im in the black dress i hate my legs! they look really fat for my upper body shape and i have cellulite which is really horrible
and im only 18!
the one in the navy top i think is ok but my arms need to tone up abit more
So from tomorrow (19th) im starting special k and working out (cant workout just yet as i have a sprained foot but its getting better.. doesnt stop me from doing sit ups!)
im gonna use my lil weights to tone my arms, im gonna do about 300 sit ups each day and once my foot is better i'll do my natalie cassidy dvd EVERYDAY! its very hard.. makes me sweat like a pig but it sure works!
now i wouldnt say im 'fat' but i feel like im slowly putting on weight as the days go by.. ive been trying my holiday clothes on and all my bikinis and some of them are a lil tight (compared to last year) so its motivated me to stick to this special k plan.
Im gonna write on here every day to track my progress.. show what ive been eating, any exercise etc.
and im aiming for 6 pints of water a day! (usually i have about 4 but i need to have more and it just makes me feel full)
i dont really know what else to say right now but if you have any advice or have used the special k plan please leave a comment
becky x
Get Rid of this ad and join in on the conversation for free today! Tap here!