S: 14st2lb
C: 13st9lb
G: 10st0lb
BMI: 36.1
Loss: 0st7lb(3.54%)
of your library?:secret:
??????
well since being on a tight budget i joined my local library and now can reserve books online and pick them up when they become avaliable.It is only 25p to reserve and today i picked up 3 ww books and copy out all the recipe's that appeal to me,after a month take them back and all it cost me was 75p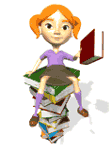 catherine
Get Rid of this ad and join in on the conversation for free today! Tap here!