S: 13st5.5lb
C: 12st13lb
G: 10st7lb
BMI: 32.1
Loss: 0st6.5lb(3.47%)
So sorry not been around - slap my wrist! lol
I'm still the same weight :sigh: but not too bothered at the moment.. life is too busy to be bothered! lol
Catrin is now - SIX and a half months!!! yes time really has flown by!
She is still breast feeding and doing well. Still small, but not had her weighed for a while - she is weaning well and finally taking to finger food, she was slower than my others to this. lol
She's fab at sitting up and even dances sat on her bum! lol Gives fab kisses and loves mummy and booby time above anything else still! lol DH is next best closely followed by my two girls!
I'm selling a few bits now as have finally admitted she's my last, I'm heading to college full time in September.
So.. if you fancy a Hypno birthing book - I had a fab home birth for those that don't know me - it's on Ebay at the moment
and / or
a Tomee Tipee Elec breast pump feel free to PM me.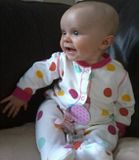 Click to enlarge
Get Rid of this ad and join in on the conversation for free today! Tap here!