S: 9st11.5lb
C: 8st12lb
G: 8st10lb
BMI: 22.7
Loss: 0st13.5lb(9.82%)
♥ Italian Meatballs in tomato sauce ♥


Serves: 4
Prep time: 15 minutes
Cook time: 25 minutes
Syns per serving:
Extra Easy FREE Original FREE Green 5.5

40g/12oz extra lean minced beef
½ small onion, grated
2 garlic cloves, crushed
½ tsp ground cumin
2 tbsps chopped parsley
salt and ground black pepper
1 egg, beaten
chopped parsley, to garnish

for the tomato sauce:
1 onion, finely chopped
2 garlic cloves, crushed
1 x 398g/14oz can chopped tomatoes
1 level tbsp tomato puree
1 tsp chopped basil or oregano
salt and ground black pepper
½ tsp artificial sweetener

method

1. Make the meatballs. Put the minced beef, onion, garlic, cumin, parsley and seasoning in a large bowl and mix well together. Bind with the beaten egg and then divide into 16 small portions.

2. Roll each one into a small ball, using your hands. Place the meatballs under a preheated hot grill and cook for about 10 minutes, until they are starting to brown and the fat stops dripping out of them.

3. Meanwhile, make the tomato sauce. Put all the ingredients in a saucepan and bring to the boil. Reduce the heat and simmer gently for 10 minutes.

4. Add the meatballs to the tomato sauce in the pan, cover and cook gently over a low heat for about 15 minutes, until the meat is thoroughly cooked. Serve sprinkled with chopped parsley and pasta of your choice.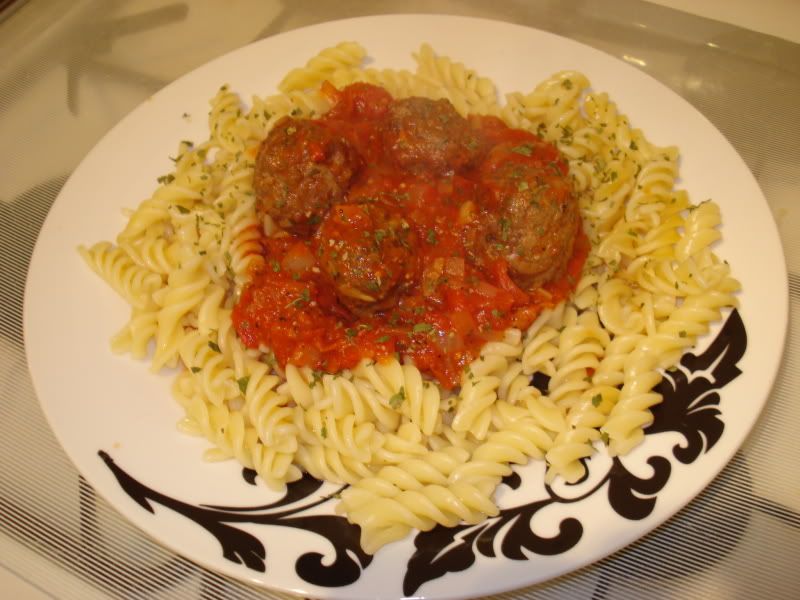 Get Rid of this ad and join in on the conversation for free today! Tap here!