Serves 6, 1 HEA + 1.5 syns per portion on green and EE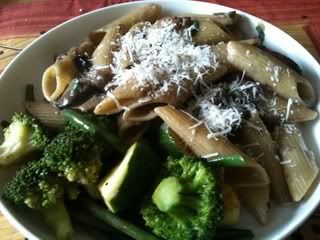 Ingredients

500g penne or rigatoni pasta
Pack of portobello mushrooms
Pack of chestnut mushrooms
100g dried porchini mushrooms
2 shallots
2 cloves garlic
1/2 beef stock cube
Salt & pepper
Chopped fresh parsley
1/2 cup (120ml) light evaporated milk (6 syns)
6 oz parmesan, grated (HEA x 6)
1 tbsp cornflour (3.5 syns)
Pour some boiling water over the dried mushrooms and allow to rehydrate for about 20 minutes. Mix the cornflour into the evaporated milk and set aside.
Slice the mushrooms thickly, finely chop the garlic and shallots.
Spray a large pot with spray oil, soften the onions and garlic. Add the mushrooms (except the dry porchinis) and fry until the water has evaporated from the mushrooms and they're sizzling. Season with salt, pepper and stock cube. Add the soaking mushrooms and the water it was soaking in. Simmer for 10 minutes.
Meanwhile cook your pasta. When cooked, add to the mushrooms, add the cornflour mixture and mix well. Add some pasta water to loosen things up. Mix well, add half of the parmesan and parsley. Mix and serve with the other half of parmesan sprinkled on each portion and veg!
Get Rid of this ad and join in on the conversation for free today! Tap here!