S: 16st2lb C: 15st4lb G: 10st0lb BMI: 35.6

Loss: 0st12lb(5.31%)
After continuing medical struggles with numerous hospital admissions and stays throwing all my efforts off course over the last year, and (thank you almost 2 years of continual high dose steroids) side effects of weight gain adding to an already there problem, I'm taking matters in hand. Slimming world I think I can stick to even on hospital food if I end up back in again, and I've heard other people on steroids have managed to lose weight on this plan (mostly because you can actually eat when you're hungry I'd think. I'm 39 this year with just over 6 stone to lose and 2 little kids with all their snacks to battle. I've thrown out all the rubbish (that is mine) and been shopping and planned out my week so I'm hopefully good to go!
Today's food:
B: Late breakfast of 3 egg omelette filled with chopped tomato, peppers, onion and mushrooms. 1 tbsp ketchup (1 syn?) I
L: more of a mid afternoon snack due to late breakfast, Fruit salad (apples and pears)
T: OMG delicious! Nest of egg noodles made into chow mein with home made 5 spice, 1tsp sweetener and soy sauce, strips of carrot, celery, red onion, pepper, mushrooms and pork fillet cooked in frylight spray. This was so amazing and filling (and 1 nest of egg noodles served 2) - better than the last few takeaways I've had by miles!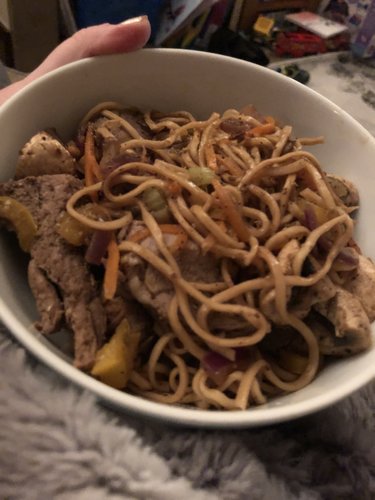 HEA- Soya milk for cups of tea
HEB - Saving a slice of bread for toast in case I get nibbly later
Get Rid of this ad and join in on the conversation for free today! Tap here!