After gaining 1lb last week and getting a round of applause from the class I must get back on plan so this week I will be publishing my weeks diary with recipes where required!
Every Breakfast is the same, Baked Beans on 2 multiseeded toast, 1 apple, 1 cup of coffee & 1 glass of Robinsons Apple cordial.
1 Hea, 1Heb & 6 syns.
All other meals also have a side salad & a selection of fruit.
Fridays Dinner, Big Breakfast........
No need for a recipe, it's what you see!
Supper, Spaghetti Carbonara......
Pete's Spaghetti Carbonara
Serves 2
Free on Extra Easy
Ingredients
175g dried spaghetti (s)
2 rashers of smoked bacon, chopped into small pieces
2 eggs
100g Philadelphia extra light cheese spread (1Hea)
Handful of fresh chives
Method
Cook spaghetti as per packet instructions 8 mins ="Al Dente"
Cook the Bacon in a dry frying pan until done then remove and put to one side.
Break 2 eggs into a bowl and beat them together along with seasoning, chopped chives and the Philadelphia cheese.
Remove and drain the spaghetti then return to the saucepan, add the contents from the bowl and stir gently over a low heat until the eggs have set.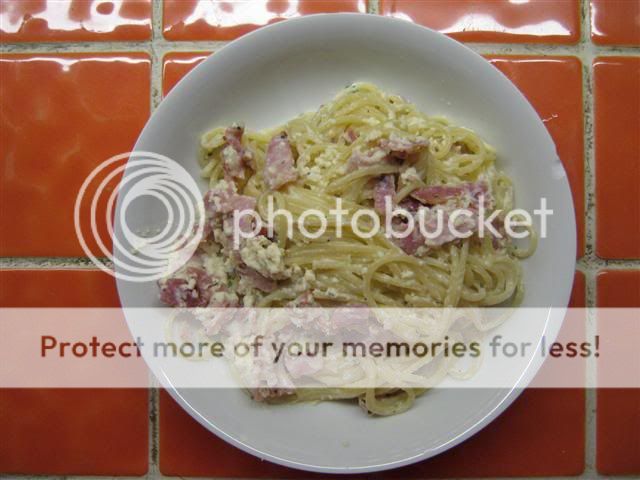 Treats...2 crackers with Phili cheese spread=3 syns
Get Rid of this ad and join in on the conversation for free today! Tap here!