as sent to over 1500 businesses, newspapers, radio stations, tv stations,PR companies, marketing companies, advertising agencies, bike shops, sponsors and racers)
Motorsport is in it's nature an exhilarating yet dangerous way to entertain the masses, and it has some of the most learned and enthusiastic followers in the world.
Irish Motorbike racing has many different forms but the ones that this press release pertains to is the disciplines of Short Circuit racing and Road Racing.
The Injured Riders Fund has some interesting facets for both the riders and the business community which can use the riders themselves to further advertise their business
In association with
irishbikeracing.com - The site for bike racing in Ireland
, members of the forum have set up a benefit fund for those racers that have been injured during competition or practice for competition and are in need of assistance.
The biggest appeal of this fund will be it's auction night to be held in the bar at Mondello Park on March 11th. On the night there will be auctions of various items listed on page two of this press release.
The fund have also designed their own stickers that will be on sale within the next fortnight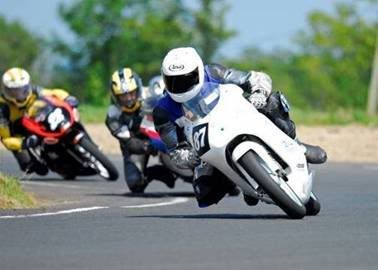 We will also have a unique auction, in which businesses can bid to place their name on the prominent sides of four race machines. The riders comprising of
Cody Nally, Darren Quigg, Tony Callanan and Ken Doherty.
These riders have committed to placing the sticker of choice on their machines with all the funds raised being sent to the injured riders funds.
These stickers will be on show for a full season and will have all the usual photo opportunities that will be encompassed on
irishbikeracing.com - The site for bike racing in Ireland
www.irishracephotography.com
along with the other web based sites which include
www.paddockgossip.com
www.aarmstrongphotography
www.roadracingimages.co.uk
, among others, which receive millions of hits per month, with a large population of regular posters and readers
As a further lot for the auction, one of Irelands hottest prospects for a TT win, and also competing in the International Road Races, Ray Porter, will carry the web address of the business on his helmet and the ads on his bikes at the Sunday National road races.
Also included in this lot is Roger Maher carrying the same web address on his helmet for his exploits in the National roads support class and also the world famous Le Mans 24 Endurance race in the only all Irish team currently entered, and will also carry the advertisers logo on his race bike at the National Support Road Races.
These lots will give the advertisers coverage in both the Irish racing scene and also internationally, throughout the Isle of Man TT, Ulster Grand Prix, Northwest 200 and the Le Mans 24 hour endurance race in France.
These riders have selflessly given over this space that would normally be garnered for getting sponsors for their own race efforts, and the riders comprise of some of Irelands finest.
Should you wish to take part in one of the most unique advertising promotions in Ireland or to donate an item for the auction
Please contact:
Glen Whelan Ph 0876221627 or email Osberstowndr @ hotmail.com
or alternatively contact Adele Milne at Adele @ roadracingimages.co.uk
All photo's courtesy of Derek Clegg admin @ irishbikeracing.com
Auction Items
Holiday kindly donated by Falcon/JWT
2 nights at the Hilton for 2 people with one evening meal included Courtesy of GMW Electrical Distributors LTD
1 set of race tyres Courtesy of Michael Savage
200 Euro voucher for
www.Topgifts.ie
Courtesy of Glen and Maggie Whelan
150 euro voucher for Connected Ink, 69 Middle Abbey Street Dublin 1, courtesy of Mitch Healy, Tattoo services on lower floor with the voucher also good for the hip-hop and sports clothing on the ground Floor.
2 A3 sized prints of the TAS Suzuki Bikes at the Sunflower Trophy races last year, Donated by Ken Doherty
1 signed A3 photograph of Martin Finnegan mid flight at Tandragee taken and donated by Keith Sherwin
1 signed and authenticated t-shirt donated by Custom Motorcycle builders the Martin Bros from Texas
2 signed and authenticated baseball caps donated by Custom Motorcycle builders the Martin Bros from Texas
1 T-shirt signed by the advertising racers on the night of the auction
If any business or individual would like to donate an item for the auction, please feel free to contact the organisers.
Glen Whelan: osberstowndr @ hotmail.com
Adele Milne: Adele @ roadracingimages.co.uk
irishbikeracing.com - The site for bike racing in Ireland
have a range of clothing (Fleece lined jackets, t-shirts, polo shirts, caps, hats, beannies etc) for sale and a percentage of the profits of each item will be donated to this fund.
Get Rid of this ad and join in on the conversation for free today! Tap here!
Last edited by a moderator: