S: 14st0lb
C: 12st3lb
G: 9st7lb
BMI: 28.5
Loss: 1st11lb(12.76%)
Im off to tenerife next week, and am really getting myself in a tizzle about what to eat when im there. Going with hubby, little man, my nana, gt aunt and uncle (all over 70).
They are very set in their ways and really wouldnt understand if I tried to explain atkins to them at all. My nana knows im on a diet - I tend to phone her when walking to the gym and she has mentioned a few times that im not to 'be on that silly diet' when on hols.
I can probably get away with saying I cant eat bread (I do actually have a bit of a wheat intolerance ive realised) but I have a feeling I am still going to be expected to eat non atkins things.
I guess I can try and not eat chips, bread etc etc but I dont want to upset the oldies.
Have a wedding to goto the week after I get bk so need to fit in my nice pretty dress I bought a couple of weeks ago.
Really panicking, as the last 2 times I went on hols I put on half a stone in a wk. :wave_cry:
Also.. I normally have these for breakfast..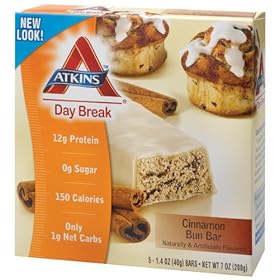 Calories: 160, Calories From Fat: 70, Total Fat: 8gm, Saturated Fat: 5gm, Cholesterol: 2mg, Sodium: 65mg, Potassium: 90mg, Total Carbohydrate: 14gm, Dietary Fiber: 6gm, Sugars: 0gm, Protein: 13gm
Should I still have these rather than cereal, or toast. (No cooked brekkies as far as I know) or if I am out of ketosis anyway would these just make it worse as they are fairly high in fat.
Omg im so stressed about this.
Get Rid of this ad and join in on the conversation for free today! Tap here!