Inspired by this recipe
Beetroot soup: Recipes: Good Food Channel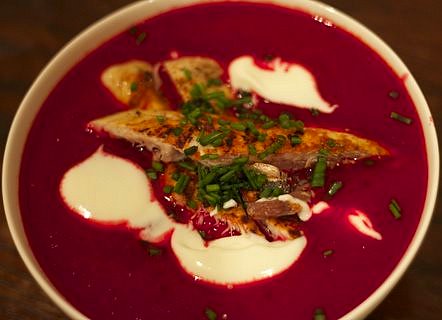 Serves 4
2 syns per serving
Ingredients
4 medium beetroot
1 onion, diced
2 small parsnips, diced
1 tbsp olive oil (6 syns)
2 jazz or pink lady apples, peeled and diced (1 syn when cooked)
2 cloves garlic, chopped
thumb-sized piece root ginger, finely chopped
2 sprigs thyme
2 or 3 cloves
2 tsp tomato puree (less than 0.5 syn)
1 chicken stock cube
700ml boiling water
3 bay leaves
1-2 tbsp white wine vinegar, to taste
4 tbsp low fat plain yogurt (negligible syns)
chives, to garnish
4 fillets of mackerel
4 tsp harissa paste
Wash the beetroot an wrap individually in foil. Bake at 200C for 90 minutes. When cooked, peel and chop roughly.
Heat the olive oil in a large saucepan. Drop in the onion and fry until soft, then stir in the parsnips, apples, garlic, ginger, thyme, cloves and season with salt and freshly ground black pepper. Fry for about 4-5 minutes until softened then mix in the tomato purée and cook for 2 minutes.
Add the stock cube and stir the diced beetroot into the softened vegetables. Pour the hot water into this, scraping any caramelised bits off the bottom of the pan. Simmer for 20 minutes or until the flavours have all mixed well.
Leave the soup to cool slightly, add the vinegar, fish out the thyme stalks and then blend to a purée with a stick blender.
For the mackerel fillets, season with salt & pepper, Spread a tsp of harissa paste on each and pan fry on both sides. Cut into half lengthways and half again across. Serve on top of the soup with a spoonful of yogurt and chopped chives.
Get Rid of this ad and join in on the conversation for free today! Tap here!