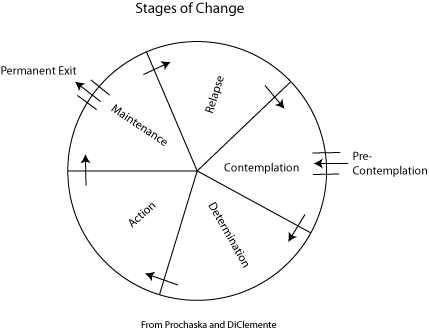 Precontemplation is the stage where you don't see the behavior as a problem for you, even if others do; basically, you're not even thinking about making a change.

​
Contemplation is the stage where you may be aware of the 'problem' but you haven't fully made the decision to change. Those in contemplation are considering a change and weighing the pros and cons; you may even try out a new behavior without committing to a change.

​
Preparation or Determination is the stage where you commit to the change and start making a plan for success. This sometimes occurs as a result of some other life event; a family member diagnosed with lung cancer can encourage one to stop smoking.

​
In the Action stage, things start changing; you're putting your plan into action and making a change. The new behavior is very conscious in this stage and not yet a habit (but you're making it one!).

​
The Maintenance stage requires less effort in making a change, but rather awareness to prevent a relapse. Coaches and change theorists discuss the differences between a slip or lapse and a relapse.

In the Maintenance stage you are likely feeling more confident and your new behavior is a habit. Just like any habit, there are days when things don't go as planned; in this stage you are maintaining your new habit, making sure you get back to it the next day.

​
Termination
or a
Permanent Exit
is when the new habit is now a permanent change.
Choosing Change | Diets in Review Blog
---------
I'm in the Permanent Exit position now.
So where are you on the chart?
​
Get Rid of this ad and join in on the conversation for free today! Tap here!
Last edited: