S: 27st2lb C: 25st2lb G: 10st0lb

Loss: 2st0lb(7.37%)
Hey all my fellow Gi`ers.When i was searching for low GI/GL info i came accross this site and a 21 day menu plan.
I thought it explained things pretty well and easy to understand,so here it is.
21-day low GI & GL menu plan


How to use the menu plans
Snack ideas
Further low GI & GL resources

Send to a friend
Print

Vote
Menu plan - week 1
Day 1
2
3
4
5
6
7
Menu plan - week 2
Day 8
9
10
11
12
13
14
Menu plan - week 3
Day 15
16
17
18
19
20
21
How to use the low GI & GL menu plan
Low GI (glycemic index) and low GL (glycemic load) diets come in many shapes and sizes. Some include medium GI carbohydrate foods such as wholemeal bread and pasta on a regular basis, while others allow these only very infrequently. Some restrict red meat and saturated fats and require all dairy products to be low fat as well. Others are concerned solely with limiting carbohydrates, the only foods which have a significant glycemic effect (ie produce a rise in blood sugar/insulin levels.) Our low GI menu plan is designed to be easily adapted for use with all types of low GI diet.
Not all low GI diets are designed to produce weight loss. Some are seen more as healthy eating plans. Of course, individual metabolisms, activity levels and levels of tolerance to carbohydrates differ, and what works as a weight-loss diet for one person would be a weight-gain diet for the next.
For some people, eating 'good' carbohydrates such as whole grains, wholemeal bread, and fresh fruits may make weight loss impossible, even though these are not high GI foods. If this is you, you can adapt the menus by eating more of the vegetables, salads and protein foods and leaving out the bread, potatoes, pasta and rice. Alternatively, you could try some simple substitutions. For instance, in place of wholemeal bread, substitute bread made with flours from healthy, low carb flax seeds, almonds, soya beans, hemp or sesame seeds instead of high carb wheat, rye or corn.
Similarly, if you can tolerate more carbohydrate foods, particularly if you are very physically active, you can increase these in quantity and frequency (but only the 'good' carbs, and not at the expense of your vegetables and salads!)
Here are some points to bear in mind when using this menu plan:

Meals can be interchanged with meals on another day if desired.

Besides your three meals a day, have two or even three snacks. Low GI diets are all about blood sugar/insulin control, and from this point of view it is better to have a larger number of small meals and snacks throughout the day than a smaller number of large meals. The list below gives you some ideas to get your thinking started.

Try to achieve 5 to 7 servings per day of fruits and / or vegetables for general good health.

The exact vegetables accompanying each dinner meal are not specified unless they are the starchy, higher GI ones such as potatoes, parsnips and carrots. Try to include plenty of non starchy, low GI vegetables (such as cabbage, broccoli, green beans, courgettes/zucchini, marrow/winter squash, asparagus, cauliflower etc) and to eat as wide a variety of vegetables as possible over the course of a week.

Dress salads with healthy fats such as olive or flax oil. Avoid 'diet' dressings which are often high in sugar or additives to replace the fats which have been taken out.

Substitute low-fat spread for butter if you feel more comfortable doing so, but make sure the brand you choose does not contain any trans fats. These dangerous man-made fats may also appear on nutrition labels as hydrogenated or partially hydrogenated vegetable oils.

Stewed fruits can always be substituted by fresh fruits. In fact, eating a fruit raw is preferable because this ensures that more of the nutrients are retained and makes it lower GI.
Low GI & GL snack ideas
Have two or three snacks in addition to your three meals each day. Here are some ideas

Cottage cheese and raw vegetable sticks

Cottage cheese with chopped dried apricots

Plain yoghurt with fresh fruit

Fresh whole fruit and a few nuts

Raw carrot sticks and hummus

Celery sticks spread with a little cream cheese

Raw courgette sticks and tzatziki (Greek yoghurt mixed with cucumber, garlic and mint)

Raw red and green pepper sticks with a small piece of cheese

Small quantity of nuts, especially almonds, brazils, walnuts and hazelnuts

Small quantity of seeds such as sunflower, pumpkin or hemp

High protein nutrition bar (but check it is not high in added sugars)

Low carb nutrition bar

No added sugar seed or seed & cereal bar

Small quantity dark chocolate (70%+ cocoa solids)

Rye crispbread with butter and yeast extract or miso spread

Oatcakes with thin slices of cheese

Slice of maltloaf / fruitbread

Half an avocado with vinaigrette dressing

A few olives

Waldorf salad (celery, walnuts and apple in mayonnaise)

Small tin of oily fish in tomato sauce or olive oil such as sardines, herring, mackerel (try to have oily fish once or twice a week)
Low GI & GL menu plan - Week 1
Day 1
Breakfast
Granary bread with butter
Scrambled egg
Lunch
Salmon, mango and buckwheat salad
On a bed of raw baby spinach leaves
Dinner
Chicken and mushroom casserole
Baked sweet potato
Vegetables
Pears cooked in red wine and cinnamon Day 2
Breakfast
Bran flakes and milk
Fresh apple
Lunch
Small baguette with prawns and mayonnaise
Green salad
Dinner
Baked fish
Basmati rice
Vegetables
Stewed rhubarb with artificial sweetener and blueberries Day 3
Breakfast
Poached smoked haddock
No added sugar fruit yoghurt
Lunch
Hard-boiled eggs
Lentil and vegetable salad with vinaigrette
Dinner
Turkey stroganoff with bulgur rice
Tomato salad
Fresh fruit Day 4
Breakfast
Wholemeal toast with sugar-free peanut butter
Lunch
Jacket potato with tuna and mayonnaise
Green salad
Dinner
Meat loaf (made with large-flake oats instead of breadcrumbs)
Vegetables
Stewed apple Day 5
Breakfast
Toasted wholemeal bread with butter
Poached eggs
Lunch
Ciabatta with grilled Mediterranean vegetables and hummus
Green salad
Dinner
Grilled fish
Boiled quinoa with onion, garlic and herbs
Vegetables
Gooseberry and ginger crumble, artificially sweetened and with topping made from oats Day 6
Breakfast
Bran cereal with fresh fruit and cottage cheese
Lunch
Tinned mackerel in tomato sauce
Bean salad
Dinner
Roast pork
Roast sweet potatoes
Vegetables
Banana fool made with plain live yoghurt Day 7
Breakfast
Porridge made with old-fashioned large oatflakes and unsweetened unsweetened soya milk or water - add cinnamon and artificial sweetener if desired
Lunch
Open ham and tomato sandwich made with whole grain bread
Green salad
Dinner
Chicken curry with brown basmati rice
Vegetables
Stewed dried apricots, cherries and cranberries
Low GI & GL menu plan - Week 2
Day 8
Breakfast
Weetabix with milk or unsweetened soya milk
Tomato juice
Lunch
Home-made chunky lentil and root vegetable soup
Fresh fruit
Dinner
Wholemeal pasta with pesto and walnuts
Vegetables
Low sugar ice cream Day 9
Breakfast
Buckwheat pancake with smoked salmon and lemon
Apple
Lunch
Tortilla wrap with chicken, salad and salsa
Dinner
Salmon steak
Canned chickpeas sautéed with herbs and garlic
Vegetables
Lemon sugar-free jelly/jello Day 10
Breakfast
Toasted wholemeal bread with butter and low sugar jam
Ricotta cheese with pineapple
Lunch
Pork and vegetable kebabs with basmati rice
Green salad
Dinner
Liver and onions
New potatoes
Vegetables
Baked apple filled with sultanas and cinnamon and artificially sweetened if needed Day 11
Breakfast
Fresh fruit and nuts
Plain yoghurt
Lunch
Tuna mayonnaise on wholemeal bread
Green salad
Dinner
Grilled lamb chop
Sweet potato
Vegetables
Fresh fruit salad Day 12
Breakfast
No added sugar baked beans on wholemeal toast
Lunch
Pitta bread filled with salad
Banana and almond smoothie
Dinner
Mushroom, beansprout and tofu stir fry
Buckwheat pancakes and fresh berry fruits Day 13
Breakfast
Unsweetened muesli with milk or unsweetened soya milk and dried apricots
Lunch
Shredded ham, pineapple and grated cheese on a toasted wholemeal muffin
Mixed salad
Dinner
Tuna steak with real tomato sauce
Bulgur wheat boiled with onion and herbs
Vegetables
Sugar-free jelly/jello, made with berry fruits Day 14
Breakfast
Grilled bacon and tomatoes
Granary bread
Lunch
Oatcakes (thin biscuits made from oats)
Thin slices of cheese
Fresh fruit
Dinner
Chicken curry with chickpeas in place of rice
Vegetables
Fruit compote made with dried apricots, prunes, sultanas, fresh pear and cinnamon
Low GI & GL menu plan - Week 3
Day 15
Breakfast
Oatmeal porridge topped with dried blueberries or cherries
Lunch
Tuna, bean and sweetcorn salad
Dinner
Pork chop
New potatoes
Vegetables
Ricotta cheese flavoured with coffee and artificial sweetener Day 16
Breakfast
Tomato juice with dash of Worcester Sauce
Wholemeal toast with tahini (ground sesame seeds)
Lunch
Pumpernickel bread topped with salmon and cucumber
No added sugar fruit yoghurt
Dinner
Home-made fish cakes
Vegetables
Stewed pear and banana Day 17
Breakfast
Ryebread with butter and yeast extract or miso spread
Sliced tomatoes and cucumber
Lunch
Lentil, chicken and bacon salad
Dinner
Pearl barley risotto with peas and mushrooms
Green salad
Strawberries dipped in dark chocolate Day 18
Breakfast
Mushroom and tomato omelette
Banana
Lunch
Wholemeal pasta salad with pesto and walnuts
Half avocado with vinaigrette
Dinner
Chilli con carne with bulgur wheat
Vegetables
Fresh fruit salad Day 19
Breakfast
Tomato juice with a dash of Worcester Sauce
All-Bran with milk
Banana
Lunch
Chicken Caesar salad with anchovies and Caesar dressing (no croutons)
Dinner
Baked white fish
Baked potato
Vegetables
Poached pears with ginger Day 20
Breakfast
Flat brown mushrooms grilled with thin slices of cheese
Banana
Lunch
Tomato, mozzarella and olive salad with chickpeas
Dinner
Steak with onions and mushrooms
Home made chips/fries
Green salad
Baked egg custard Day 21
Breakfast
Toasted wholemeal bread and butter
Omelette
Lunch
Thai noodles with tofu, mangetout and beansprouts
Dinner
Lamb stew
Mashed swede
Vegetables
Ricotta cheese flavoured with cocoa powder and artificial sweetener
Further low GI & GL resources
For further menu ideas, check out our free
14-Day Atkins & Low Carb / GI Menu Plan
. Menus and recipes primarily designed for those on low carb plans are by definition also suitable for anyone following a low GI or GL diet - if foods are very low in carbs, they cannot have an appreciable glycemic effect.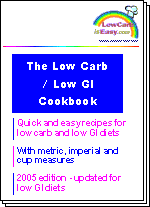 If bread, cookies and cakes are what you yearn for, there's no need to miss out on these when you are doing a low GI diet. By substituting high carb wheat flour with low carb and low GI flours made from super-healthy ingredients such as flax, almonds, soya, hemp or sesame, and sugar with sweeteners, your favorite treats immediately become low GI, as well as a lot more nutritious. Learn how easy it is to make these in
The Low Carb / Low GI Cookbook
. The Cookbook also contains lots of other clever substitutions for lowering carbs and GI, such as using cauliflower instead of rice in risottos and cabbage strips instead of pasta in lasagna. All recipes in The Low Carb / Low GI Cookbook are suitable for low GI and GL diets.
Get Rid of this ad and join in on the conversation for free today! Tap here!