My friend made this & it is really nice
MetricImperial
3 medium chicken breasts3 medium chicken breasts75 g red lentils3 oz red lentils
30 ml mild curry powder
2 tablespoons mild curry powder
10 ml ground coriander
2 teaspoons ground coriander
5 ml cumin seeds1 teaspoon cumin seeds350 ml boiling chicken stock12 fl oz boiling chicken stock225 g shredded spinach8 oz shredded spinach
15 ml chopped fresh coriander
1 tablespoon chopped fresh coriander
salt and pepper to tastesalt and pepper to tastewhite or brown basmati ricewhite or brown basmati ricepoppaddums for 3poppaddums for 3
COOKING EQUIPMENT
1 Slow Cooker

Turn the cooker on to high heat before starting your preparation, so the cooker is at the right temperature.​
Method
Place the lentils in a sieve and rinse well under cold running water.
Drain them well and then put them in the cooking pot.
Add the curry powder, ground coriander, cumin seeds and the boiling chicken stock. Cover and cook on high for 2 hours.
In the meantime, dice the chicken and chop the coriander.
Chop the spinach, I cheated and used the shredder attachment on the food processor, this is much easier.
After 2 hours, add the diced chicken to the lentil mixture, press down and make sure the chicken lies in a single layer, this allows the meat to cook more evenly.
Cover and cook on high for 2 hours or until the chicken is just tender.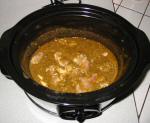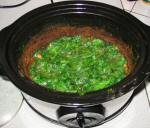 Add the spinach to the pot, pressing it down into the hot liquid.
Cover and cook for a further 30 minutes until the spinach is wilted.
Stir in the chopped coriander, season with salt and pepper to taste, then serve.
Get Rid of this ad and join in on the conversation for free today! Tap here!