Border agency decided yesterday family must go home to Zimbabwe
Mother's benefit claims broke rules of immigration visa - and there is no right of appeal

She and her school friends must have dreamed of the day she starred in an X Factor final.
But last night Gamu Nhengu was having to face up to a future without her dream – and without those friends too.
The 18-year-old singer was told on Sunday that she had missed out on a place in the live finals of the ITV talent show.
Shock: Gamu Nhengu, pictured joking with a friend in July, has been ordered to return to Zimbabwe after the family's visa application was refused by immigration officials
And yesterday she was told she must leave Britain altogether. Her family have just days to return to their home country of Zimbabwe – or face deportation.
It is a bitter blow for Miss Nhengu, who appeared so carefree when she posed with a group of girls before a ball in July.
She had proved popular with X Factor fans, who were outraged that she was excluded. ITV received 600 complaints after the Mail revealed how judge Cheryl Cole was told by producers not to pick the singer because of doubts over her immigration status.
Star quality: A glamorous Gamu poses with friends as they prepare to go a dance in July
Yesterday, thousands of viewers even threatened to boycott the show's lucrative voting phone lines unless she was brought back on the show.
However, immigration officials claimed that her mother, Nokuthula Ngazana, had received thousands of pounds worth of benefits while working as a nurse.
Miss Ngazana, 38, is believed to have claimed child tax credit and working tax credit during her eight-year stay in the UK.
Under immigration rules she is not allowed to have access to benefits and must support herself and her family on her own.
Furthermore, the family have no right of appeal and Miss Nhengu cannot apply for a visa just for herself.
The singer moved to Scotland with her two brothers, 11 and nine, after their mother began studying at Stirling University and qualified as a nurse.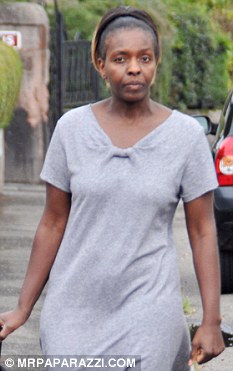 Facing deportation: Gamu's mother Nokuthula has been working as nurse after training at Stirling University
Her mother was allowed to stay in the UK under the Fresh Talent scheme and had the right to stay – until August 29. Her children were allowed to stay as their mother's dependents.
The family, who live in Tillicoultry, Clackmannanshire, reapplied to stay in the UK in August and up until yesterday, they were waiting to hear the outcome.
The UK Border Agency told the Mail: 'The applications made by Miss Ngazana and her family were considered in line with the published immigration rules.
More...
Read more:
X Factor 2010: Now Gamu Nhengu and her family face deportation | Mail Online
Get Rid of this ad and join in on the conversation for free today! Tap here!