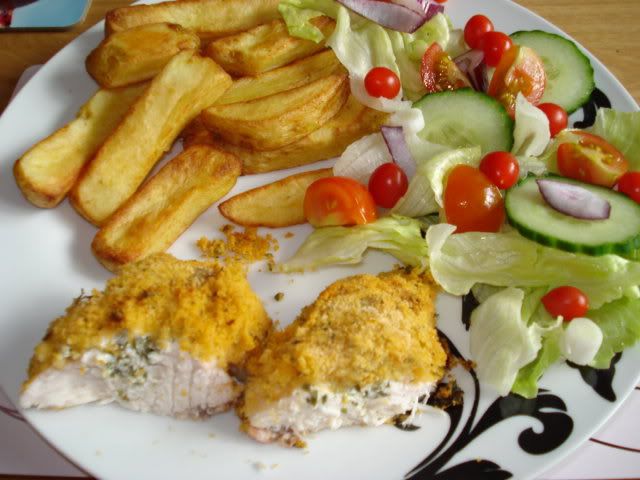 Herby Chicken Kiev


Serves 4: 2.5 Syns on extra easy



Ready in about 35 minutes
Ingredients:
4 garlic cloves, crushed
A handful of fresh tarragon, finely chopped
A handful of fresh parsley, finely chopped
Zest & Juice of 1/2 lemon
2 Tbsp quark
Salt & Pepper
4 Skinless chicken breasts
1 Egg, beaten
2oz/57g breadcrumbs
Fry light
Crisp salad
Jacket potato or chips

1. Preheat your oven to 200 degrees/Gas mark 6. Mix the garlic with the tarragon, a quarter of the parsley, the lemon zest and juice and the quark, then season.

2. Make a cut down each chicken breast. Stuff each cut with the herby mixture and secure with a cocktail stick. Place the chicken on a lined baking sheet and brush with the beaten egg.

3. Mix the breadcrumbs and the remaining parsley and sprinkle over the chicken. Spray with frylight and bake for 20 minutes. Remove the cocktail sticks and serve with a crisp salad and jacket potato or chips.

I had McCain's rustic chips with the skins on, 300g worth for only 3 syns.
Get Rid of this ad and join in on the conversation for free today! Tap here!