New guy here!
45 a few days ago and suffered for 20 years with a back issue which limited my exercise ability and encouraged my ice-cream habit. Health checkup showed up high-normal for blood pressure but high risk for Diabetes as my mother is type 2. Physiotherapist friend suggested the back issue could be relieved a lot if I dumped the excess weight I had accumulated in my upper body (legs and butt are still surprisingly trim and sexy if i do say so myself
)
Signed up for the Exante Man Plan at the start of October hoping to kill off the Diabetes risk and weight issues, bought the 2 week mix n match bundle to find my faves followed by a 4 week mix n match.
Very pleased with the shakes (Lemon cheesecake = awesome....better than a McDonalds milkshake in my opinion and Banana and Strawberry shakes are pretty damn good too! I use 300ml instead of 200ml by the way)
Pot meals - Good. Indian Dahl and Black Bean are my go to lunches at work.
Bars - double choc bar is fantastic but the Caramel crunch bar had more salt in it than....well....salt does. Sent that back.
Evening meals are a pain as I really can't eat leafy greens so I've stuck to protein and cauliflower rice with plenty of seasoning.
To be honest I'm hovering at around 1000 calories a day with very low carb intake. (Babybel included!)
Started Oct 8th at 16st 3lbs, Oct 15th 15st 10lbs, Oct 29th 15st 7lbs, Nov 2nd 15st 4 ..... and I had 2 days of eating steak n cake for my birthday so not bad progress.
Feeling good, looking good.....farting more often.
Plan to start hitting the gym start of December
I travel a lot so the test will be whether i can keep this up whilst in a hotel in Beijing/Delhi/LA..... I guess that's a challenge that I shall just have to kick in the balls too!
Oh by the way, To begin with I wasn't a fan of the shakes mainly because of the clumpy, grainy texture...but I got rid of my manual shaker and bought a USB, rechargeable vortex shaker..... a bit expensive but oh so worth it. Shakes are better than in the blender and it's very portable.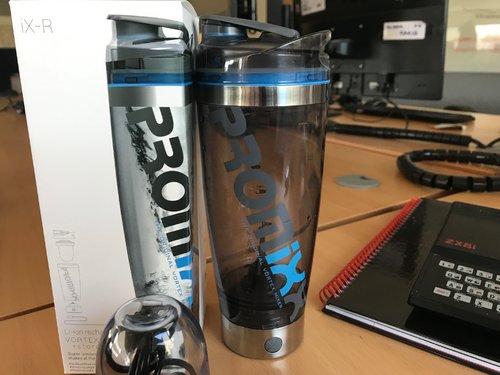 Anyway, long first post, I talk a lot, I'll shut up now.