Hi there
After reading all of your diaries on here I thought it's about time I came to say hello to all of you! :wave_cry:
Also, I thought it would be pretty cool to start keeping a little diary of this pregnancy (my 4th) because so far this had been THE most eventful one to date!
Anyway, I'm Lorraine, a mother of 3 and 24 weeks pregnant with my 4th (a boy!) and so far, so good! I had quite a scare at 7 weeks when I had a bit of brown bleeding (sorry tmi) and was told by the head of department at my local hospital that I was having a miscarriage:cry:and whether I wanted a D&C booked or to let it happen naturally. I chose to let it happen naturally and by the time I went back in to have a scan to find out why nothing else was coming 'out', they found a little bean with a heartbeat
! I'm convinced now that miracles do happen! And that doctors don't know everything and that scans are pretty inaccurate! Phew! So that's me!
I was a serial dieter, highest weight being 16 and a half stones, lowest weight being 10 stones! I've tried every diet going known to man! When I fell preggers I was 13 and half stones and now I'm 15 bang on
So far I've put on a stone and a half and I'm only 24 weeks!!! I always tend to put on loads when I'm expecting but I fully intend to 'sort' it when my little miracle is born, and by doing that I mean, healthy eating and exercise! No more pills, soups/shakes and faddy diets!
I've had a bit of worry recently because at my 20 week scan baby was measuring slightly small on the abdominal circumference so I'm due for a repeat 'growth' scan next thurs to check babys measurements so I'm hoping he's caught up! But,like I said before I've not got that much confident in scans now anyway!
I just want to congratulate everyone who's reading this on their precious pregnancies and to wish you all the best!
Lorraine x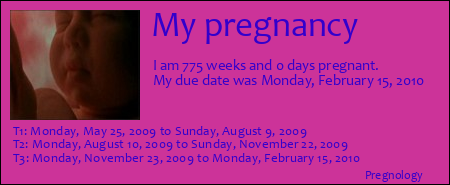 Make a pregnancy ticker
Get Rid of this ad and join in on the conversation for free today! Tap here!
Last edited: