S: 13st13lb

G: 9st9lb
Serves 4 very generously, probably closer to 6! 1.5 syns per serving if serving 4. Inspired by Jenny Morris's seafood soup!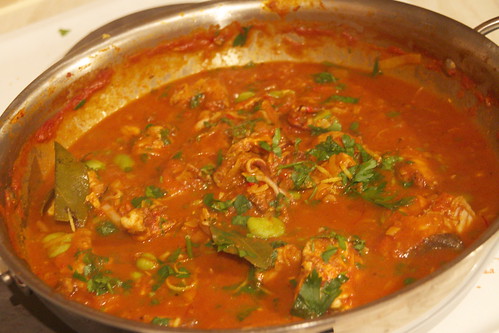 1 tbsp olive oil (6 syns)
500g monkfish, cut into chunks
1 halibut steak, cut into 4 pieces
4 tubes squid, scored and sliced
Salt & pepper
1 tbsp ras el hanut
1 onion, chopped
3 birds eye chillies, chopped (optional)
3 large ripe tomatoes, grated
1 x tin chopped tomatoes
1 tbsp tomato purée
1 heaped tsp ground cumin
Pinch of saffron
1 cinnamon stick
2 tsp ground ginger
2 bay leaves
1 tsp fennel seeds
3 garlic cloves, crushed
1 fish stock cube
1 cup water
2 tbsp harissa paste
1 leek, sliced
Handful of fresh parsley, chopped
Zest of 1 lemon
Handful of broad beans




Method

Wash and cut the fish into chunks, season with ras el hanut and a little salt & pepper and set aside.

Heat the olive oil and gently fry the onion until soft and fragrant. Add the ripe tomatoes, tinned tomatoes and tomato purée and simmer for a few minutes.

Stir in the spices and garlic and allow the flavours to infuse. Season with salt & pepper, add the stock cube, water and harissa paste and leave to simmer for 20 minutes.

Add the leek, broad beans, fish, calamari and allow to simmer for 10 – 15 minutes. Scatter the herbs and lemon zest over the top and serve with couscous and roast veg.





Get Rid of this ad and join in on the conversation for free today! Tap here!
Last edited: