S: 24st8.5lb C: 22st10lb G: 16st0lb BMI: 56.3

Loss: 1st12.5lb(7.69%)
Hope you don't mind me sharing my news.
My baby niece was born just under an hour ago at 7.35pm (12 days over-due)
This is my first niece on our side of the family because I have the only girls till now.
My brother and his wife are calling her Olivia Rose and she weighed 8lb 4 oz. Mother and baby are doing well and I can't wait to go and see her. Plus I get to do a newborn baby photoshoot. Unfortunately, they live a 3 hour drive away so I have to wait until we go at Christmas
This is the first photograph of her. It is from a mobile phone and is only a small photo, but she looks nice and healthy.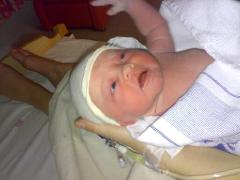 Get Rid of this ad and join in on the conversation for free today! Tap here!