So I noticed on the SW forum that one of the most popular threads was the pictures of meal ideas threads. I also noticed that over here, there seem to be a fair amount of people asking for inspiration for meals etc. etc. and I think its important while calorie counting to constantly come up with new meals and ideas otherwise it gets very boring, very quickly and we doom ourselves to failure. At least, that was part of the problem for me. I did a check and I couldn't find a similar post on CC, but if there is then obv mods can delete. Anyways, I would like to invite you all to post pictures of your meals so we can all benefit from inspiration! Here was my "lunch"" (I say "lunch" cause I actually had it at 17:20 =s)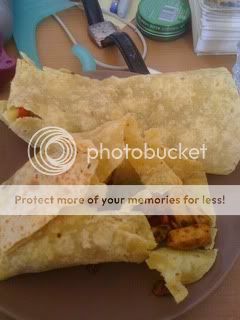 Fajitas!
2x Discovery Corn Tortilla (238kcal)
1/2 pack Quorn fajita strips (69)
1/2 long red pepper (21)
1/2 small onion (15)
Jalapenos (2)
Chipotle Paste (2)
Total = 347 kcal
The tortillas fell apart =(
Get Rid of this ad and join in on the conversation for free today! Tap here!