So I've got many many animals and as my mother refers to it...my zoo. Large, small, no legs, 4 legs, fur, scales, hooves, paws...and the variations continue.
I'll start with the herps.
Theory of a Deadman aka Theory [adult male crested gecko]
Danse Russe aka Russe [juvie crested gecko]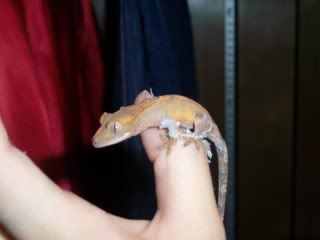 Santa Monica aka Mon [an older juvie crested gecko leaning towards female]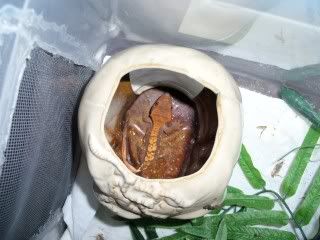 Dreams Away aka Dreams [juvie crested gecko]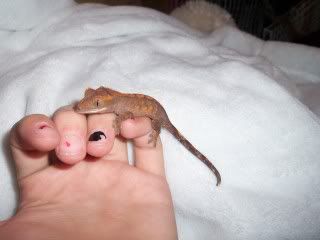 Nirvana, my 5ft female Nicaraguan Red Tail Boa. She is an absolute sweetheart.
Comfortably Numb aka Numb, my newest addition. This Colombian Red Tail Boa is a bit over a foot.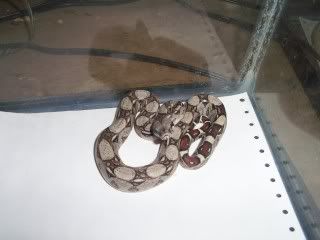 FooFighter aka FooFoo, my hybino cornsnake. He or she is about a foot and a half long.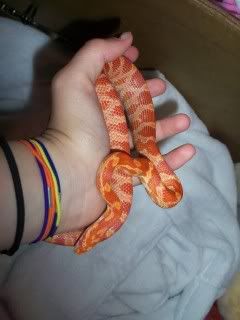 Young Lust aka Lust is my female normal ball python at about 2 to 3 feet right now.
Ecstasy, my almost 4ft Amazon Tree Boa. Came equipped with a bad case of mites a few weeks ago.
Now my horses.
Chasemea Slick Shadow aka Chase. 6yr old sorrel tovero medicine hat paint gelding.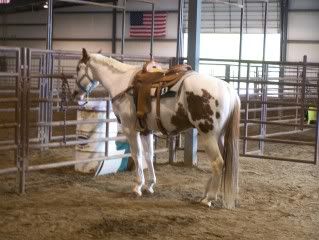 Slick Dirty Dancin aka Shassa, my 5yr old tri color tobiano paint/arab mare. She has the same mama as Chase(RIP Shady).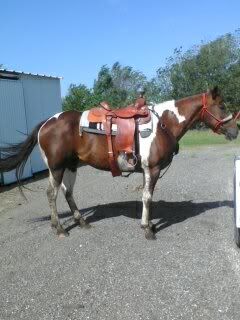 Jon Richard aka Ramble, my new 10yr old fleabitten gray TB.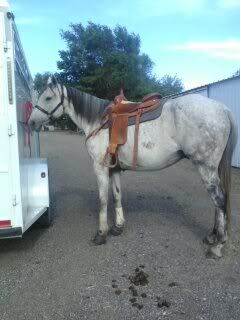 My dogs.
Jagermeister, my Mini Aussie pup...severly obese mini aussie pup. Last vet visit told us he needs to lose 25lbs...half of his body weight.
Jake, my little sheltie/pom. I can't remember off hand but I think he is about 4yrs old.
The cats.
Roxie, our old family cat.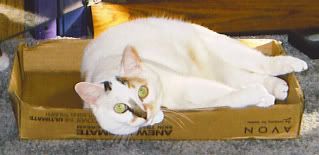 Cowboy, the other very old family cat.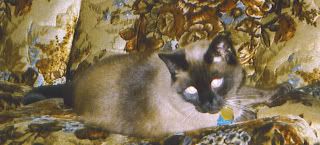 My baby...Black Jack, Jackie, Jacki-us, pita, etc.
Rescued him after he had been hit by a car and was having seizures on a country road. He is 4 or 5 now I believe.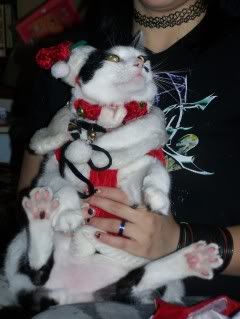 Now I have many hamsters, rats, rabbits, and gerbils that you would be bored to death looking at...that is if I didn't pass away just trying to copy and paste all of the links to each of them. I will just post one of each, consider it like a sample lol.
Nova-
Hailstorm(her dam passed away when this litter just opened their eyes unexpectedly. I then nursed them till they were eating solid food on reg. basis. Then all but this little girl passed away within a few days. Unsure why but she is still being strong and I pray she stays that way.)
Kerrplunk, Sprawl(the one that looks dead), and Killer Munchies(the black and white one). Syrian Hamsters. And to those who are wondering, do not house this kind of hamster together. These three were together for breeding purposes and were separated shortly after. During breeding I keep a close eye as they can become quite viscous towards each other.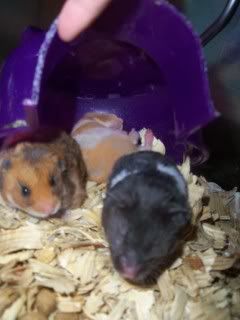 An unnamed gerbil pup in my most common color variation.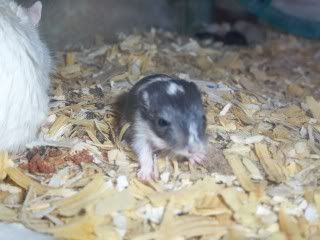 Get Rid of this ad and join in on the conversation for free today! Tap here!