I am at the hospital in Valencia today for the results of my brain scan, an ultra sound of my liver, a mammogram, and chest x rays.
Deep down I know all of them are clear but there is always that little tinge of fear lurking in the background.
We do make the most of the journey as Valencia is as close to civilization we get. We will leave really early and go and do some wholesale shopping for things that compliment my antiques, sales are not what they were and naturally so as people are struggling to pay household bills. I think really good but reasonably priced artificial flowers might take off.
The idea was born when a florist friend on mine who stands next to me at Saturdays market put three beautiful sprays of real orchids in an antique cut glass vase I had on sale. So many people asked " are they real " and on finding out they were said " oh I want artificial ones"
We take a picnic and sit in Valencia's dry river bed area and enjoy watching city life pass by. It is an amazing area, the river was diverted after floods that killed people. It is now a wonderful park and recreational area that houses a lot of Valencias very modern city of arts and sciences.
It is such a change for us and so far from our normal daily routine that I actually look forward to my visits to the oncologist. What a strange lady I am.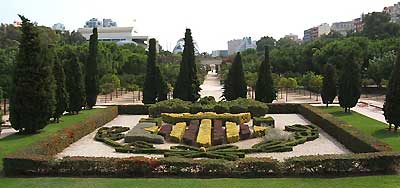 This is the river bed and runs through the center of the city.
Get Rid of this ad and join in on the conversation for free today! Tap here!