Serves 4 generously - 1.5 syns per portion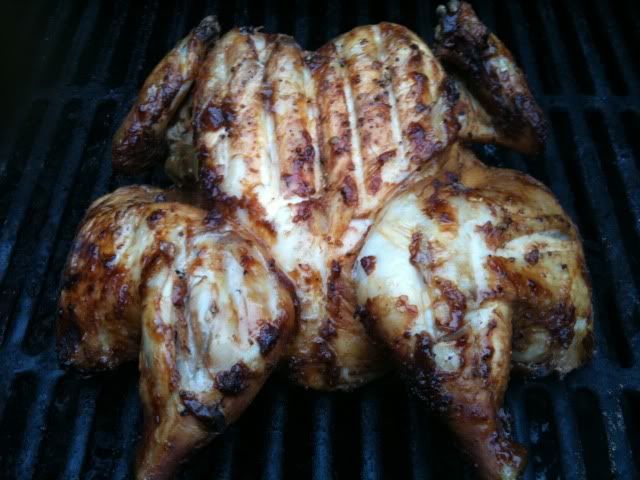 INGREDIENTS
1 Whole medium chicken, spatchcocked
4 tbsp ketchup (4 syns)
1 tbsp maple syrup (2 syns)
1 tsp salt
1 tsp black pepper
1 heaped tsp chicken seasoning powder (knorr does a good one)
2 heaped tsp mustard
3 cloves garlic
1 medium red onion
3 chillies
2 heaped tsp paprika
3 tbsp worcestershire sauce
Throw everything but the chicken in a food processor and whizz until smooth.
Cut shallow slashes into the breasts and thighs of the chicken.
Rub the marinade all over the chicken, cover or place in a bag and marinate overnight
To cook turn the oven to 160C and place the chicken skin side down on an oven rack with a pan under to catch the fat. Cover with foil and roast for 40 mins
While the chicken is cooking in the oven, start getting your barbecue ready with coals lit etc.
After 40 mins the chicken should be cooked through but still a bit pale. Transfer to the barbecue and cook for about 10 minutes on each side for a lovely charred effect. Serve with salads, wedges etc!
REMEMBER: This is *really* difficult but don't forget to take the skin off before eating!
Get Rid of this ad and join in on the conversation for free today! Tap here!