Mission:Lose fat-Get fit!
S: 15st7lb
C: 15st0lb
G: 13st0lb
BMI: 28.5
Loss: 0st7lb(3.23%)
Just tried these for my lunch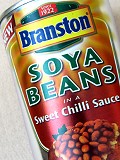 - they were tasty, a nice change from plain baked beans and free on green!
And soya beans are really good for you...
Lots of good Amino acids!
Just thought I'd say in case anyone hasn't tried them - sorry if you already have!
They do chickpeas too - think I might try those next time
Get Rid of this ad and join in on the conversation for free today! Tap here!