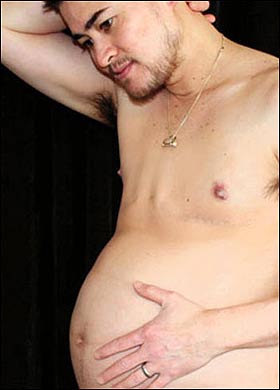 Thomas Beatie ... and belly
It's just like Arnie's hit film Junior
By LYNSEY HAYWOOD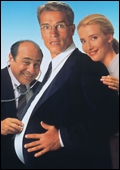 Expecting ... Arnie
THOMAS Beatie's pregnancy comes 14 years after Arnold Schwarzenegger's film Junior — in which the Hollywood muscleman starred as a man having a baby.
In the 1994 comedy, Arnie plays Alex Hesse, a scientist who invents a new super-fertility drug.
Hesse and Dr Larry Arbogast — played by pint-size Danny DeVito — test it by stealing an egg, fertilising it with Alex's sperm and implanting it in his abdominal cavity.
Their experiment is only supposed to last three months but Hesse becomes attached to his unborn child. He goes through various physical and emotional changes — and nine months later gives birth to a girl in a caesarean op.
Arnie later told how he spent hours in doctors' waiting rooms watching pregnant women to mimic how they behave.
Tot faces life of hurt
By CAROL COOPER
Sun Doctor
THE baby girl being carried by this man could have been exposed to gender-bending hormones that would damage her for life.
Her private parts are likely to appear like a man's if the testosterone jabs taken to boost his masculinity have not worn off.
People are warned against child-bearing after any form of treatment that affects their gender.
The hormone jabs are given in slow-release doses every other month, so there is a chance some may still have had an impact on his body when he fell pregnant.
And this would have a devastating effect on the crucial early development of the unborn child. A baby's private parts develop at around 11 weeks, when the substance may still be present.
There will be problems — such as the psychological impact of finding daddy is actually mummy.

Man claims he's pregnant
TRANSGENDER man reportedly claims he is five months pregnant with a baby girl

Bankety blank for scammers
CROOKS who sparked collapse in HBOS shares tried to involve The Sun in their scam

Vink: I'm no reffin' cheat
REF Pieter Vink denies doing Dirk Kuyt, his fellow Dutchman, a favour in row at Arsenal

Heath Ledger's new Dark snaps
PICTURE SPECIAL: NEW stills of Heath in Batman sequel The Dark Knight released
<H2 class=small>
</H2>

</IMG>
Sex change bloke set to be a mum
By EMILY SMITH
US Editor
Published: 27 Mar 2008

A BLOKE with a beard sent shockwaves round the world yesterday when he announced: "I'm PREGNANT."
Thomas Beatie, 34, released this astonishing photo showing his swollen belly — and said it felt "incredible" to be a pregnant man.
He revealed he is due to give birth on July 3.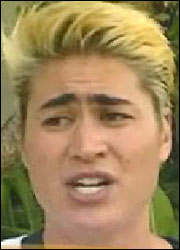 Before ... Thomas as Tracy
And he told how he was fertilised using donor sperm because his
WIFE
Nancy cannot have children.
American Thomas — a transsexual who was actually born female — admitted that his amazing pregnancy would create "legal, political and social unknowns".
But in a real-life echo of Arnold Schwarzenegger's 1994 film Junior, Thomas vowed to carry on living as a man even while his baby bump is growing.
He added: "I will be my daughter's father, and Nancy will be her mother. We will be a family."
Thomas is legally a man after undergoing a sex change, even though he kept his female reproductive organs.
He and his wife were desperate to start a family after ten years together, but Nancy, 45, had had a hysterectomy after health problems 20 years ago.
Confident
So Thomas, who had chest reconstruction surgery and testosterone therapy for his sex change, stopped the hormone injections and his periods returned.
A year later he fell pregnant with twins using donor sperm, but lost the babies after developing life-threatening complications.
He then became pregnant again five months ago, and his doctors now expect him to give birth to a healthy baby girl.
Thomas bravely decided to write about his experience in respected US gay magazine The Advocate.
He wrote: "How does it feel to be a pregnant man? Incredible.
"Despite the fact that my belly is growing with a new life inside me, I am stable and confident being the man that I am.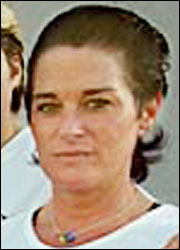 Love ... wife Nancy
"To those in the quiet community where we live, we are viewed just as we are — a happy couple deeply in love.
"Our desire to work hard, buy our first home, and start a family was nothing out of the ordinary.
"That is, until we decided that I would carry our child. I am transgender, legally male, and legally married to Nancy."
Thomas admitted medics, friends and relatives had been shocked by his pregnancy. One doctor ordered him to shave off his beard before referring him to a psychologist.
And Thomas revealed his wife's family are in for a shock because they have no idea he was born female.
He said: "Doctors have discriminated against us, turning us away due to their religious beliefs.
"Health care professionals have refused to call me by a male pronoun or recognise Nancy as my wife. Receptionists have laughed at us. Friends and family have been unsupportive; most of Nancy's family doesn't even know I'm transgender.
"The first doctor we approached was a reproductive endocrinologist. He was shocked by our situation and told me to shave my facial hair.
"A few months and $2,000 later, he told us he would no longer treat us, saying he and his staff felt uncomfortable working with 'someone like me'."
Thomas said even his own family had failed to support him after he lost the twins.
He revealed: "When my brother found out he said, 'It's a good thing that happened. Who knows what kind of monster it would have been'."
Thomas went on: "I am so lucky to have such a loving, supportive wife.
Before undergoing his sex change, Thomas was a lesbian called Tracy LaGondino.
Tracy was a prominent gay rights activist in Hawaii, campaigning to stop hate crimes and to give same-sex couples the right to adopt.
Friends told how blonde Tracy fell in love with Nancy Roberts. Nancy moved in with Tracy — but pretended to be a lodger to avoid discrimination.
Advertisement
</IMG>
Tracy then had a sex change because Hawaiian law barred same-sex marriages. Two years ago the couple moved to Bend, Oregon — a former logging town of 80,000 residents — where they run a screen-printing business called Define Normal.
Stunned neighbours last night refused to believe Thomas could be pregnant.
But the editor of the Los Angeles-based Advocate said: "We called Thomas's doctor. She confirmed Thomas is pregnant and the pregnancy is proceeding."
GOT
a story? Ring The Sun news desk on
0207 782 4104
, TEXT
63000
or EMAIL
[email protected]
Share this article
What is this?

Digg!
del.icio.us

Reddit
Newsvine

NowPublic
Facebook
Fark
Get Rid of this ad and join in on the conversation for free today! Tap here!
Last edited: