.....well kinda anyway.
Thank you to you lovely ladies online, I just adapted one of your recipes to get this: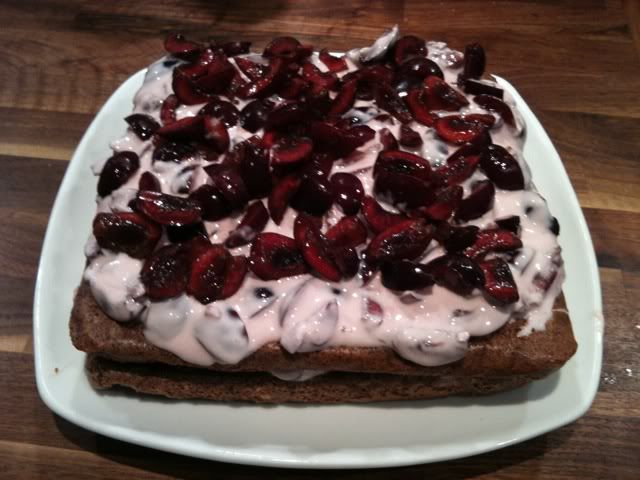 Recipe
6 eggs
1 oz. self-raising flour
1 oz. cocoa powder
9 tablespoons splenda
Filling/Topping:
1 tub quark
6 Tablespoons splenda
1/2-3/4lb cherries, stoned and quartered
Whisk egg whites until stiff and , in a separate bowl whisk egg yolks and splenda, add a 1/4 of the egg white & beat until pale yellow.
Add the flour and coco powder gradually & fold into the mix carefully, when done add the rest of the egg whites & fold in.
Pour into 2 square cake tins and even out with a spoon. Place in the oven on gas 5 for about 15 minutes and check regularly. Once done the cakes should be springy if you press your finger in the middle.
Take out of the oven, leave to cool, and carefully remove from the sandwich tins (I used fry light and baking parchment and the cakes came out easily when totally cold).
Filling/topping:
Beat the quark with the sweetener, add 3/4 of the quartered cherries into mixture and leave in fridge for 30-60 mins to slightly firm up. Sandwich the 2 cakes together with 2/3 of the cherry/quark mixture then put the last 1/3 over the top of the cake. Arrange the remaining cherry quarters over the top of the cake.
The whole cake is 9 syns and I cut this into 6 large portions at 1.5 syns each.
It didn't last long
xxx
Get Rid of this ad and join in on the conversation for free today! Tap here!