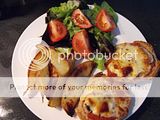 And it was sin free and I enjoyed every bite:character00100:
I posted this in recipes a while ago
I use a wholemeal roll halved HEb, I fry some onions add herbs and chopped tomatoes, reduce it down till its like pizza topping, I then spoon it on the bread top with a bit of mozzarella HEa the remainder of the sauce can be frozen or do the same for the rest of the family (white bred if desired) pop it in the oven for about 10 minutes. sin free pizza 2 HE's.
Get Rid of this ad and join in on the conversation for free today! Tap here!