I love this website! I get a lot of inspiration from it and I came across this amazing recipe!
Serves 4
8 slices stale wholemeal bread, quartered (from a 400g loaf)
4 slices bacon, roughly chopped (or ham or other meat, or no meat if you're a vegetarian)
2 tomatoes, halved and thickly sliced
Small bunch of spinach, roughly chopped
80g grated full fat cheddar cheese (3/4 HEA per serving)
8 eggs
250ml semi skimmed milk (1/4 of an HEA per serving)
250ml very low fat plain yogurt
Salt & Pepper
1 tablespoon Dijon mustard
Preheat oven to 180 degrees
Spray baking dish with frylight
Fry bacon 'til crisp
Scatter bread around dish
Intersperse bacon, tomato, and greens amongst bread
Whisk eggs, yogurt, milk, cheese, Dijon, and salt and pepper together and pour everything over the bread, making sure everything gets covered.
Bake for 30-40 minutes until egg is set.
Here are pics, not mine but from the web site. I'm trying this tonight!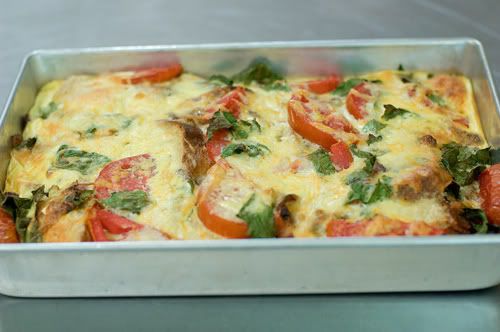 The Pioneer Woman Cooks - Ree Drummond
Get Rid of this ad and join in on the conversation for free today! Tap here!