Seekh Kebab
(serves 1-2)
half small onion
half green chilli pepper (or to taste)
1 tsp garlic & ginger paste (I make my own by blending equal parts fresh ginger and garlic)
half tsp cumin powder
half tsp coriander powder
half tsp paprika
pinch cayenne pepper
quarter tsp salt
1 small handful fresh coriander
1 small handful fresh mint
250g extra lean steak mince
1. Preheat oven to Gas 6/200C/400F.
In a blender combine onion, chilli pepper, garlic & ginger paste, cumin, coriander powder, paprika, cayenne, salt, fresh coriander and fresh mint. Blend well until ingredients are fully combined.
2. Put blended mixture into a large bowl and add steak mince. Mix throughly until fully combined. (I also did this bit in my blender as felt it would bind better as the meat is extra lean).
2. Using wet hands, divide mixture into 3 or 4 sausage shapes. You can use skewers if preferred but if using wooden skewers, soak them in water for at least 30 mins before using.
3. Arrange kebabs on a wire rack over a roasting tray and bake for about 6 minutes.
4. Turn kebabs and bake for further 6 mins.
5. Finish kebabs under a hot grill or on a griddle pan, cooking for a further 3-4 mins or until just charred on each side.
Serve with Cucumber & Yoghurt sauce and salad.
Cucumber & Yoghurt Sauce
quarter small cucumber, deseeded & finely chopped
half tsp salt
125ml Total 0% Greek Yoghurt
1 garlic clove, finely chopped
white pepper to taste
quarter tsp chilli powder
half tsp fresh mint, finely chopped
quarter tsp dried mint
1. Place chopped cucumber in a sieve, sprinkle over salt and leave to drain for 30 mins - 1 hour.
2. Rinse then drain and stir into yoghurt.
3. Add garlic, white pepper and chilli powder. Stir in fresh mint and also dried mint. Mix thoroughly.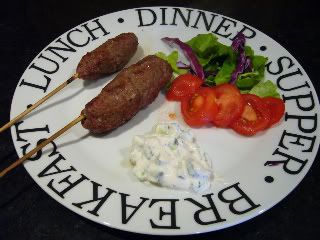 I made 4 kebabs - 2 large and 2 smaller ones, but next time I think I'll make 3. I did manage to eat 3 and was full but I knew if I decided to eat all 4 it was only the equivalent meat to a quarter pounder! (I'll probably eat the 4th one later!!)
I don't know if I'd bother with the skewers next time, but it made a nice change. I think they'd also work as burgers.
It doesn't look much on the plate but I found it filling enough.
Get Rid of this ad and join in on the conversation for free today! Tap here!