S: 29st8lb
C: 27st2lb
G: 15st10lb
BMI: 53
Loss: 2st6lb(8.21%)
Hello everyone!
So I was messing around trying to find ways to help me achieve my 100 days doing the diet and I came up with a simple wall calendar to help me count the days and visualize my progress.
Please let me know what you think and also in ways to improve this, post all your suggestions here and feel free to send me a PM asking me for the original file (.PNG - Fireworks CS5.5).
You can print the image as its sized to A4, so you can post on your wall and motivate yourself every day. I use some stickers to block out the days I have done already, but you can just cross them with a thick marker as well.
The "weight ins" I am doing are every 10 days, but I will also be doing a version for 7 days for those of you who are used to it, or go to a consultant, etc...
Hope it helps you as its helping me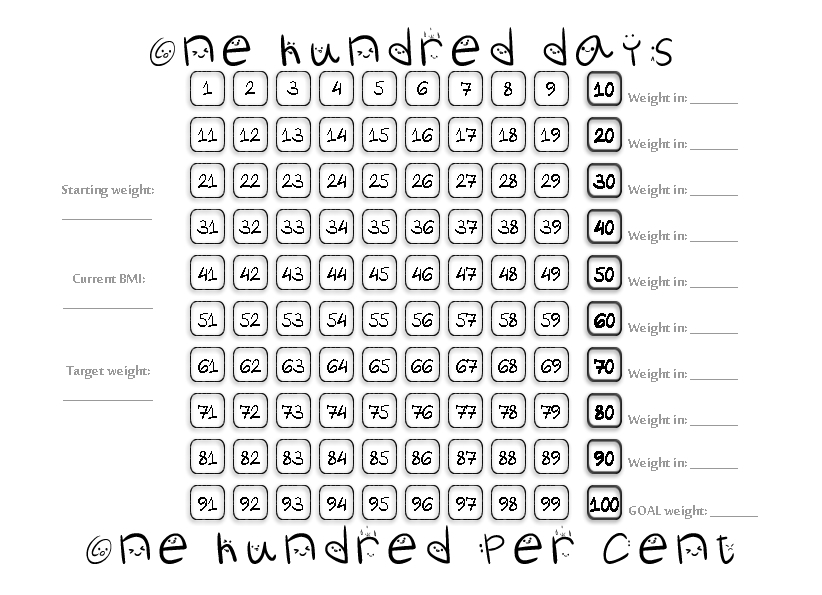 Direct link for download (right-click select save as):
http://img806.imageshack.us/img806/1064/100days100percent.jpg
Get Rid of this ad and join in on the conversation for free today! Tap here!
Last edited: